Budding with wispy dried florals, soothing dusty blue hues, and all the romantic, rustic charm of Wisconsin's countryside, step with us into the tranquility of a dreamy, down-to-earth wedding design at Horstmann Homestead Farm in West Salem. Natural beauty and timeless elegance run strong through each intentional detail crafted and curated by a talented team of local La Crosse area wedding vendors ready to inspire you as you dream up your own day of celebration.
With coordination, design, floral, and decor by Melody Rose Designs, featuring forHisglory Photography, Morrison Media, Resource Vintage Rental, LK Bridal Studio, Crumbtastic Cakery, Brides N' Belles, Metropolitan Salon & Spa, and Makeup by Sarah Koblitz, be enchanted by the earthy atmosphere and delicate details below!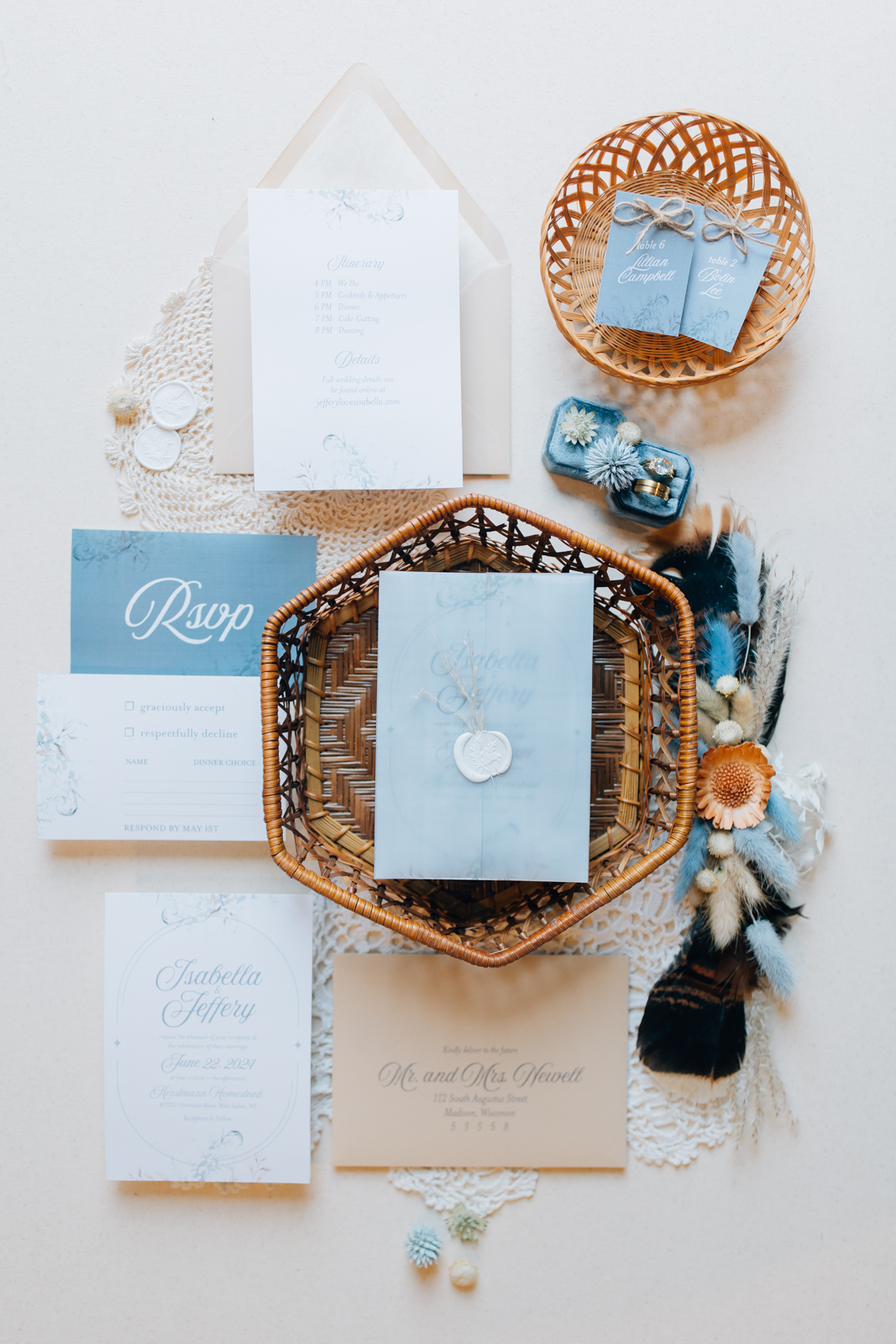 LK Bridal Studio sets the scene with a dreamy invitation suite featuring a faded blue color palette and delicate, whimsical detailing wrapped in vellum and stamped with a wax seal and dried pampas grass. From arched laser-cut signage to elegant menus and a statement escort card wall, their custom stationery and day-of details create a cohesive flow between each event and transition of the day.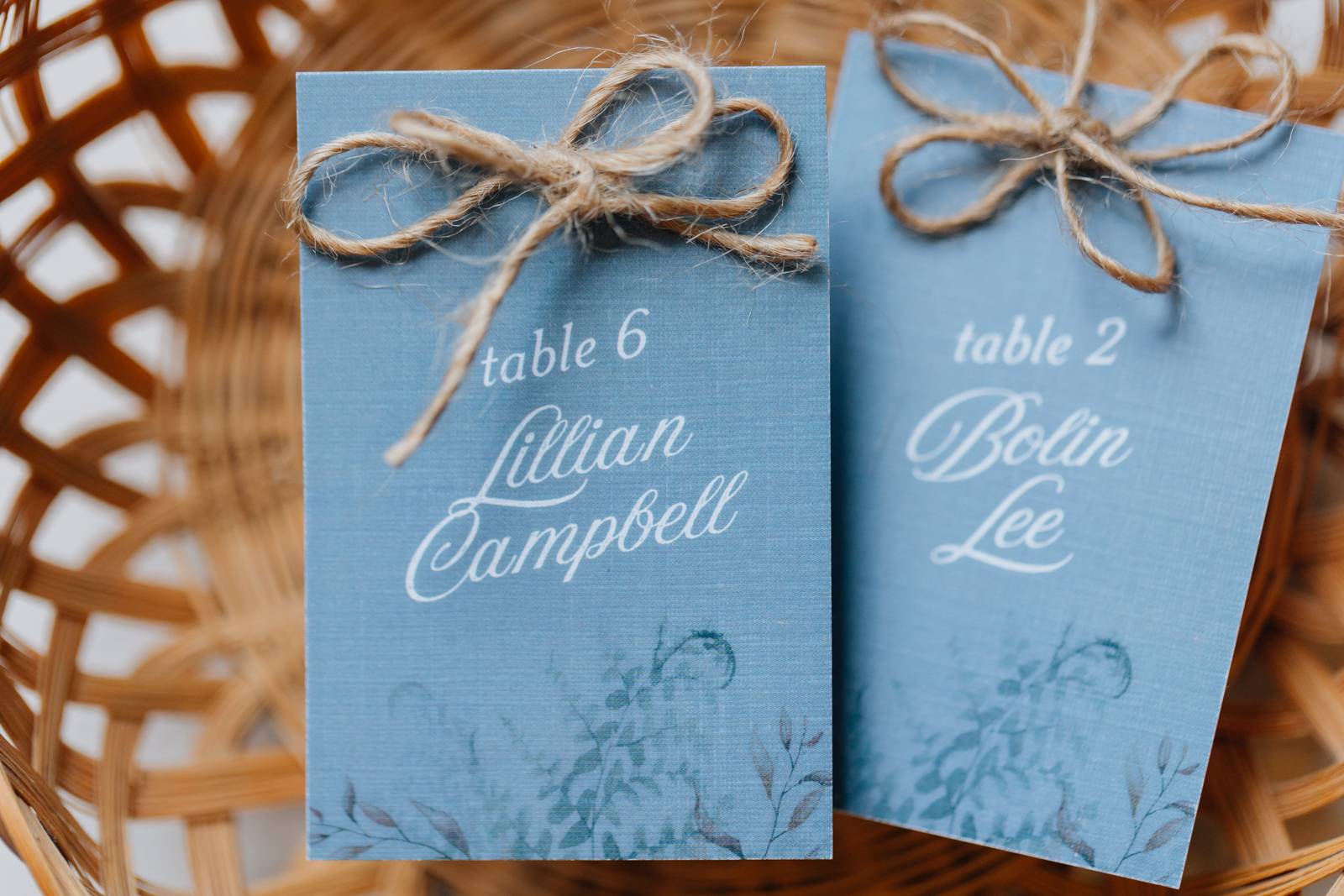 Showcasing their exceptional floral artistry, Melody Rose Designs composed unique and eye-catching arrangements for this earthy and rustic affair. Stunning ground florals, a show-stopping ceremony arch design, and a trendy pocket boutonniere and basket bouquet are just the beginning of the captivating dried-floral designs you'll find that effortlessly harmonize with the venue's settings.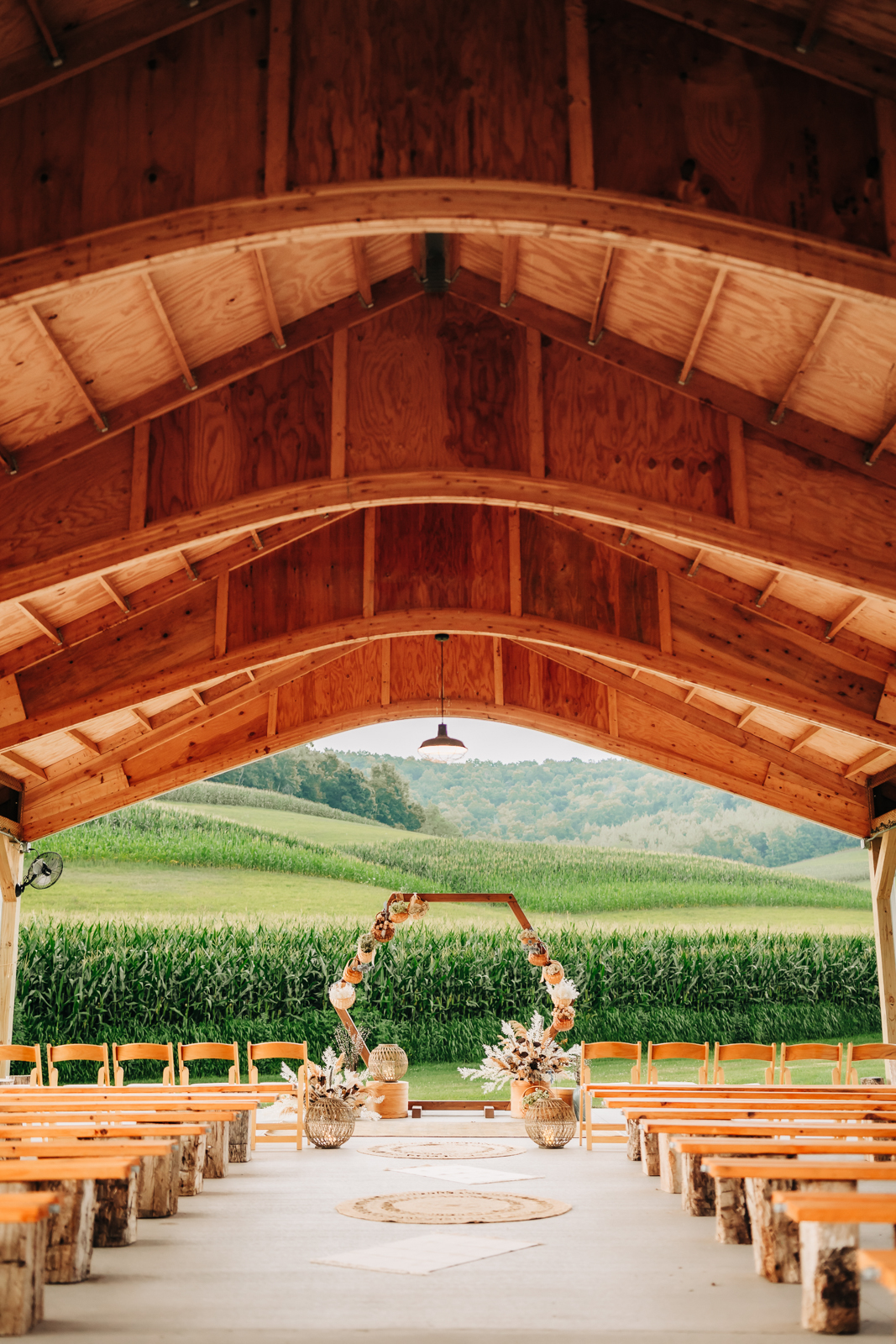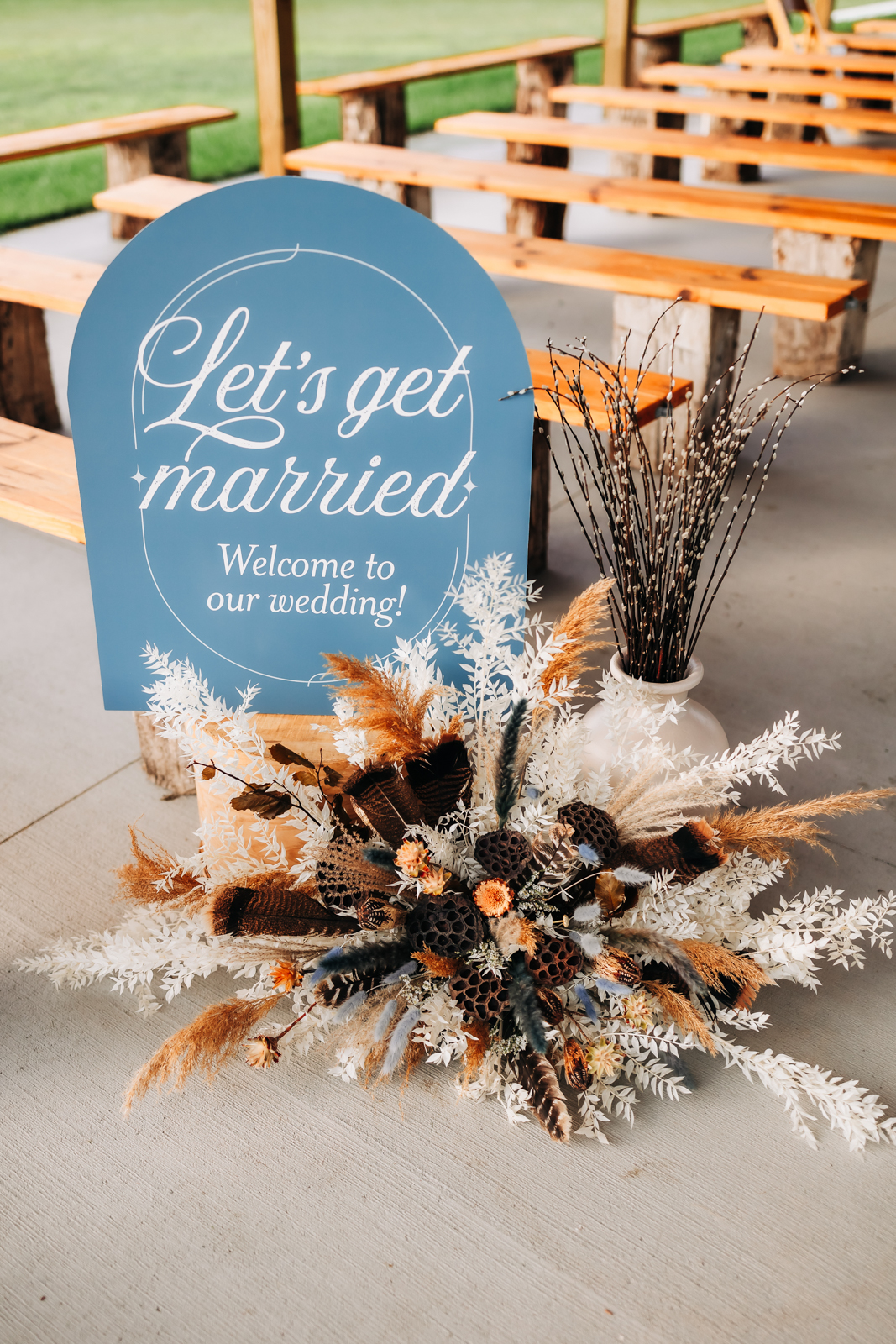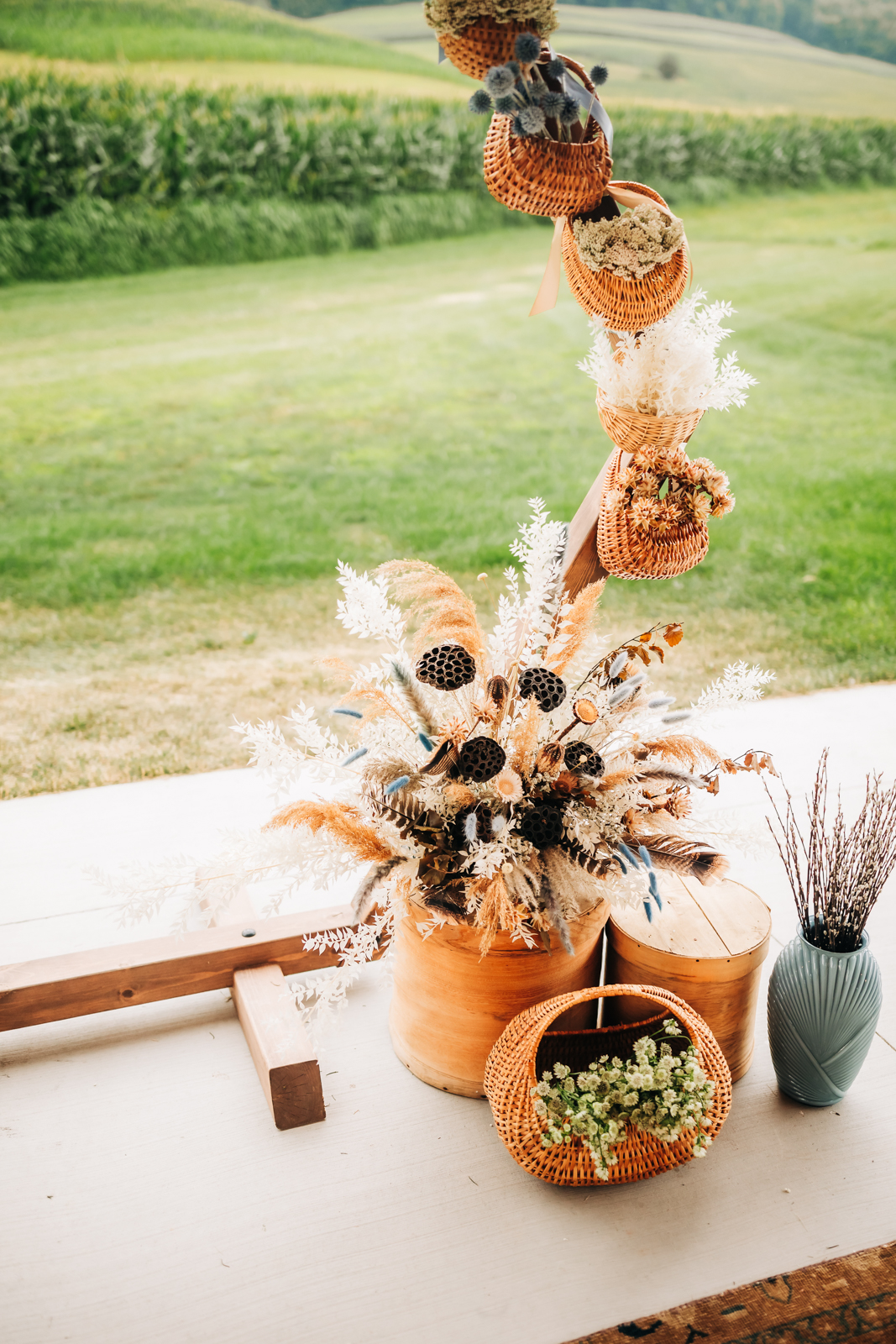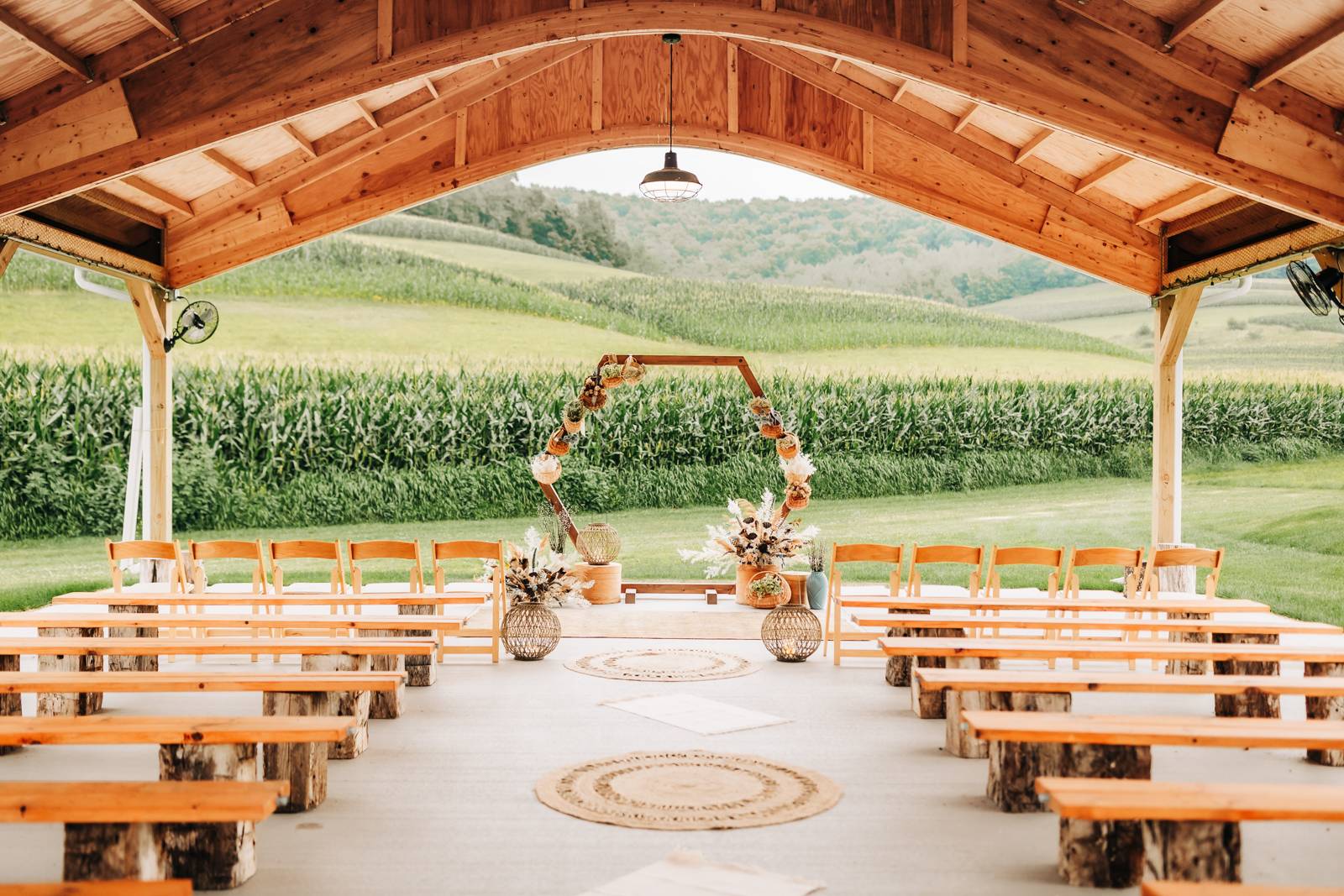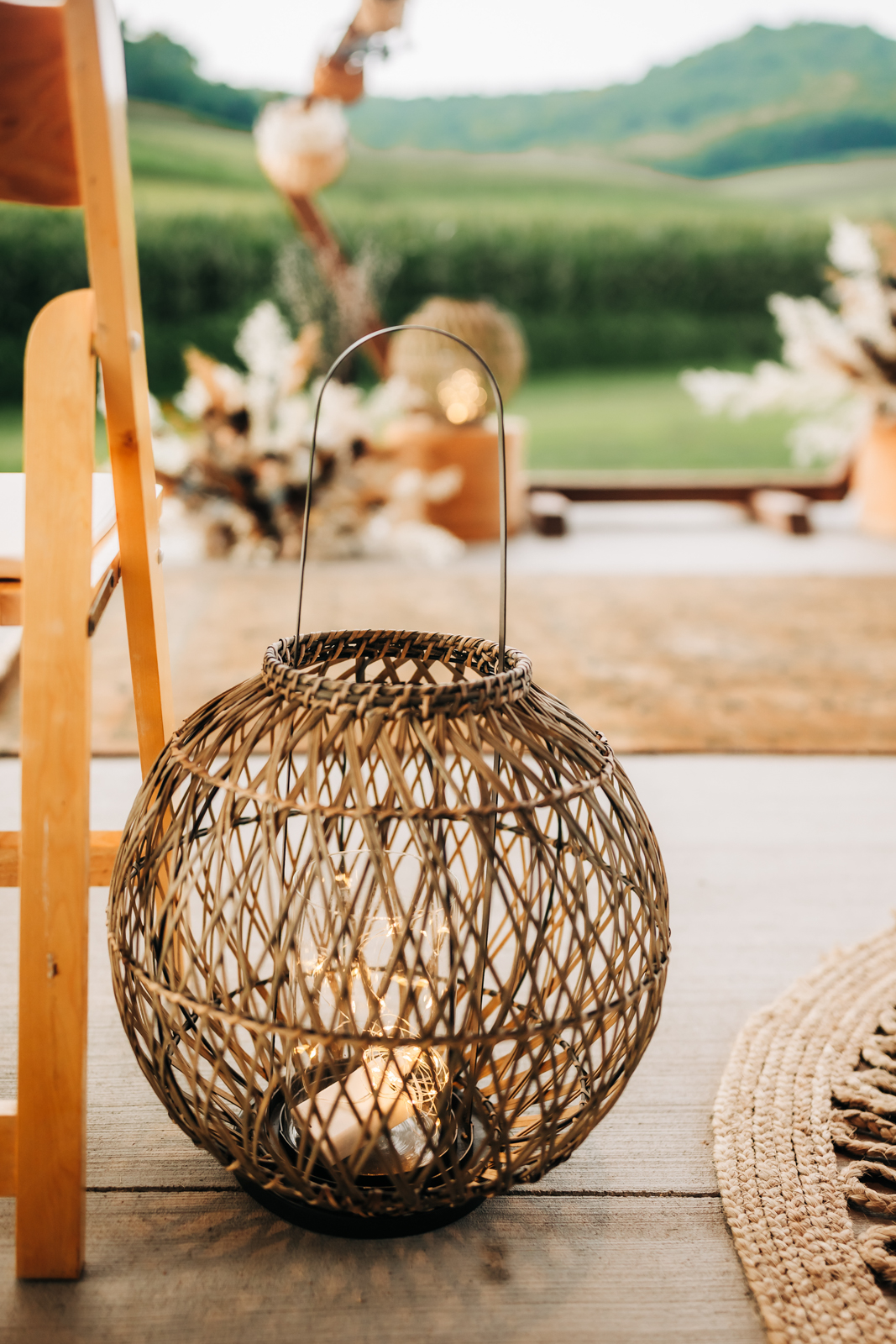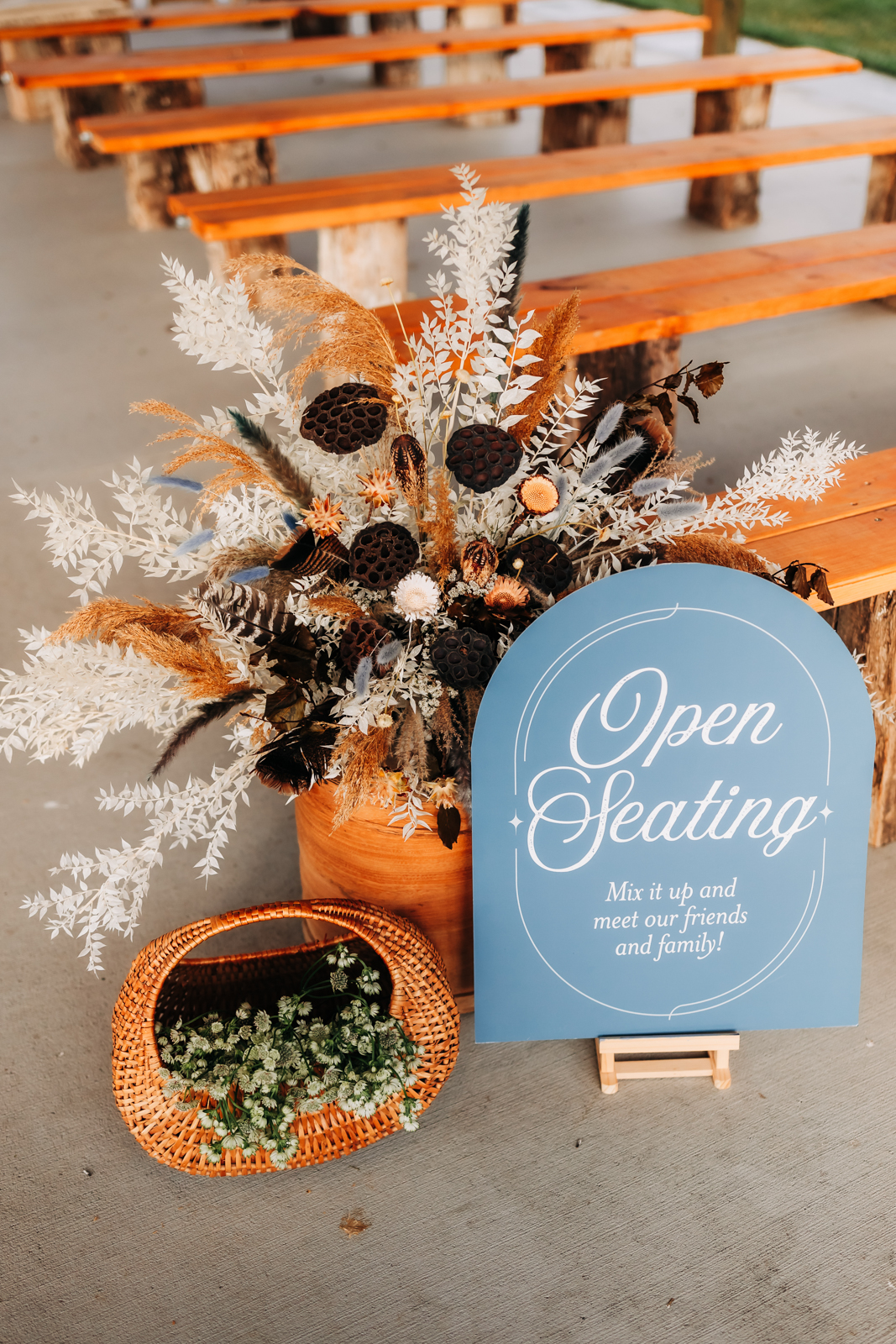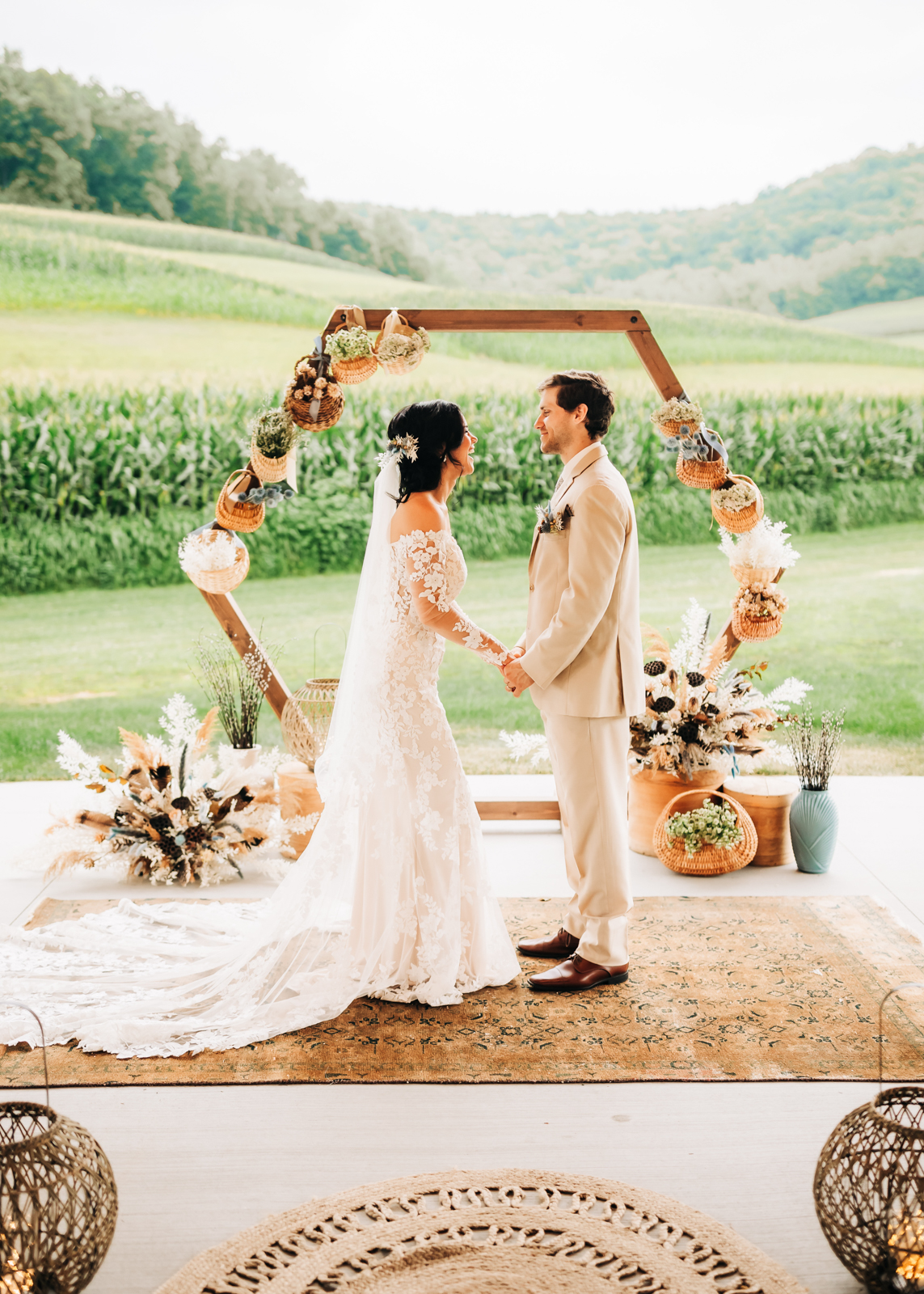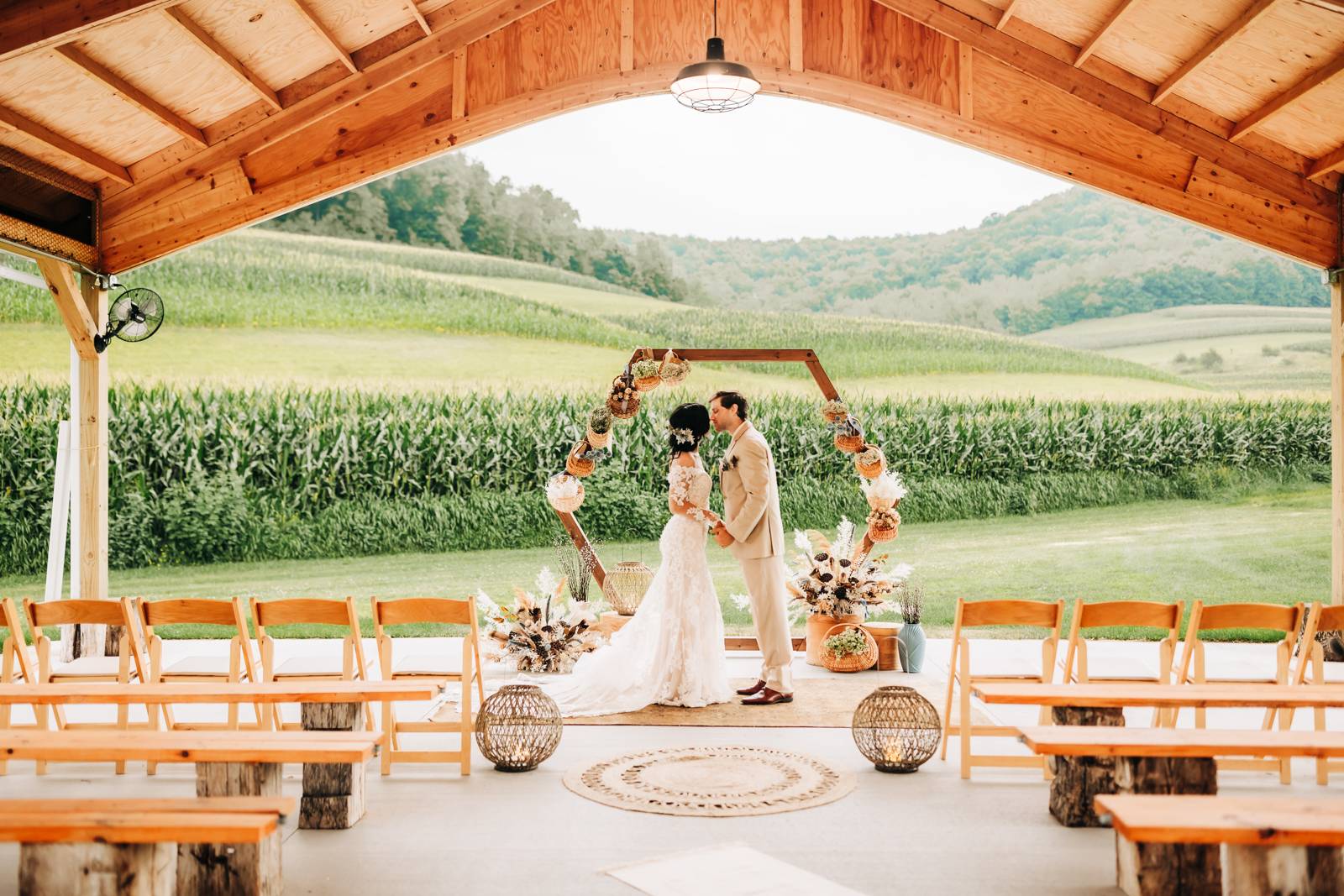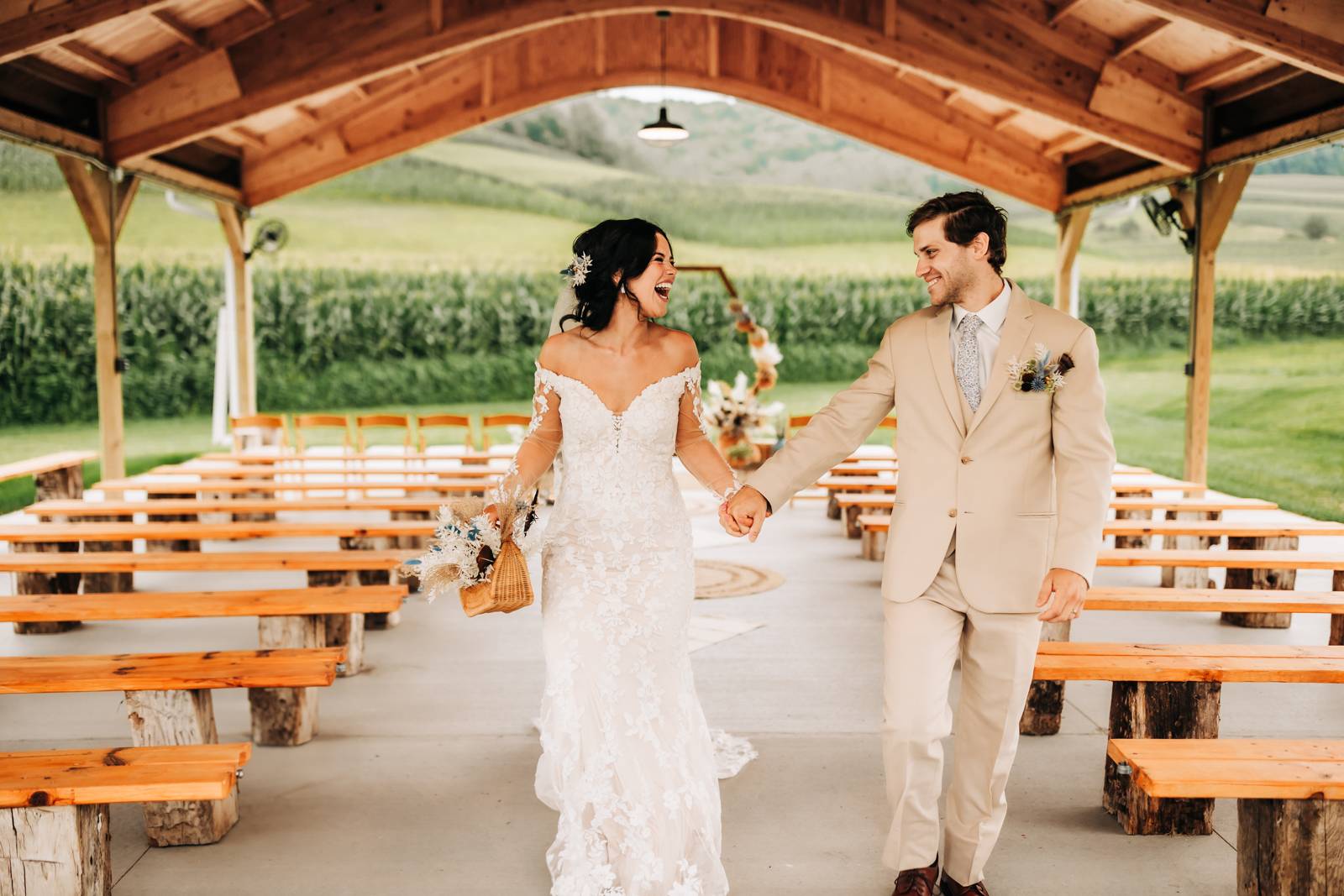 Our bride is breathtaking in a seemingly effortlessly tousled updo accented with a custom floral hairpiece by Metropolitan Salon & Spa and a soft, yet smokey makeup look brought to life by Makeup by Sarah Koblitz. Adorned by a romantic, off-the-shoulder gown with a jaw-dropping train and a well-fitted tan suit with a floral-patterned tie, this couple embodies the rustic yet elegant allure of their surroundings.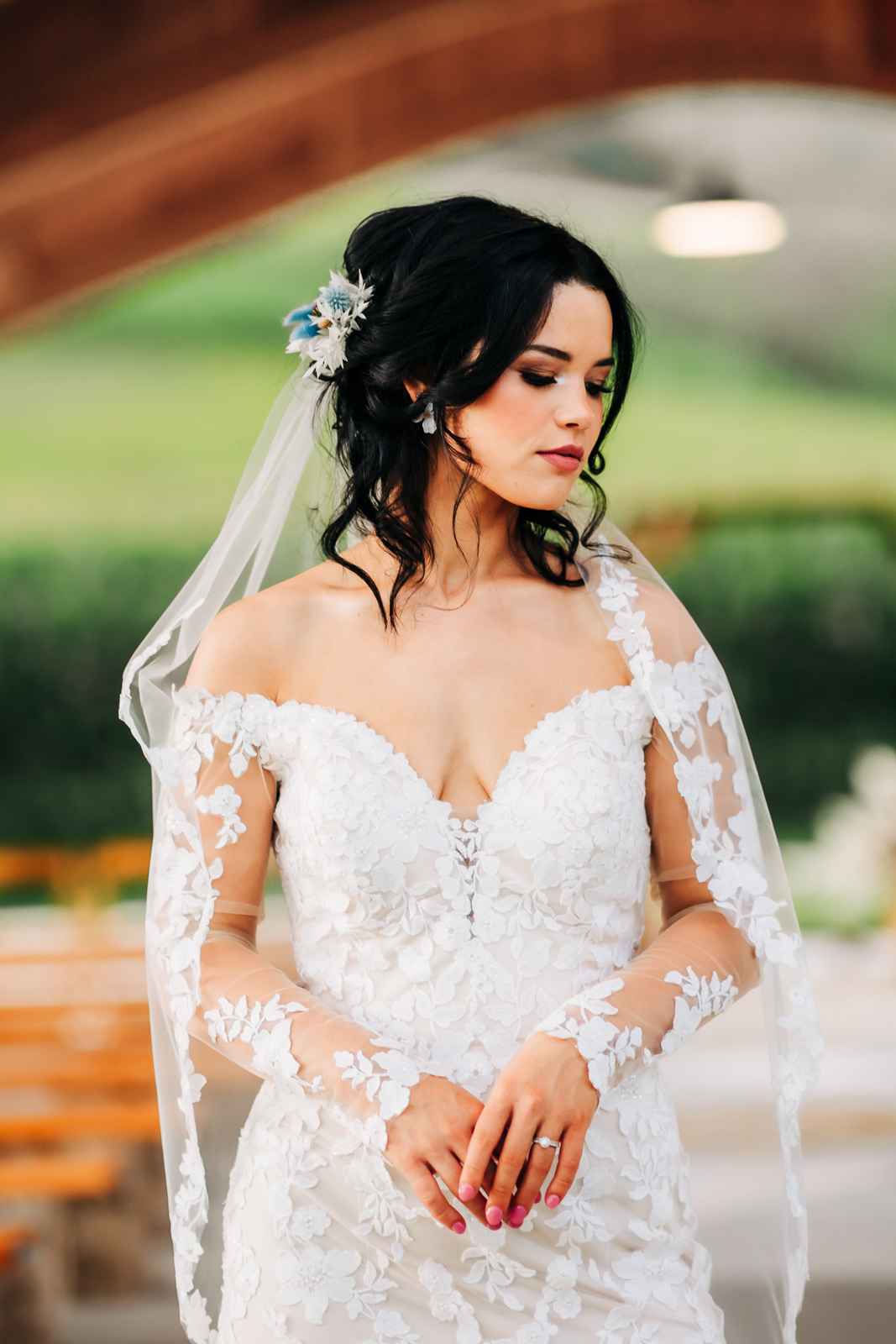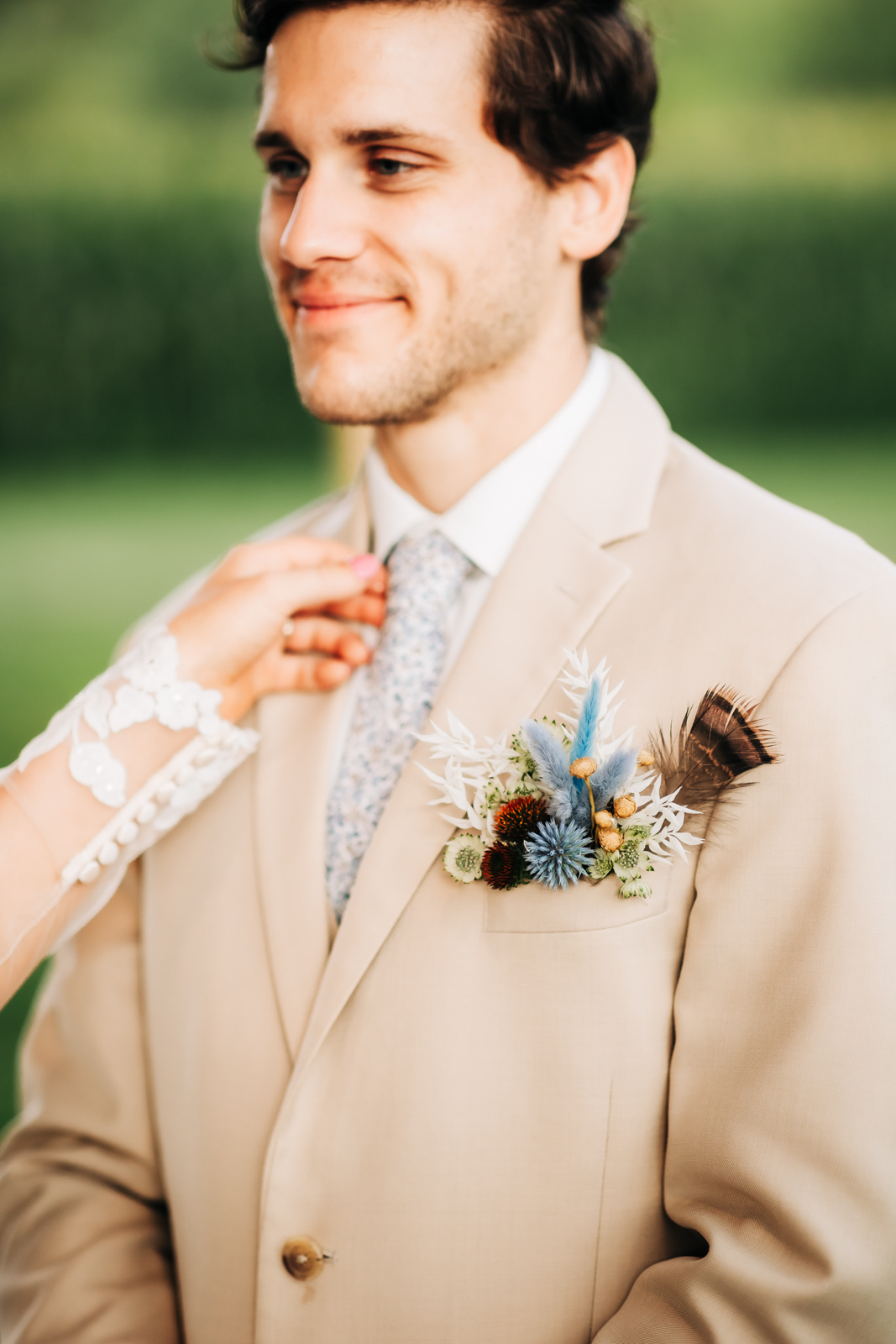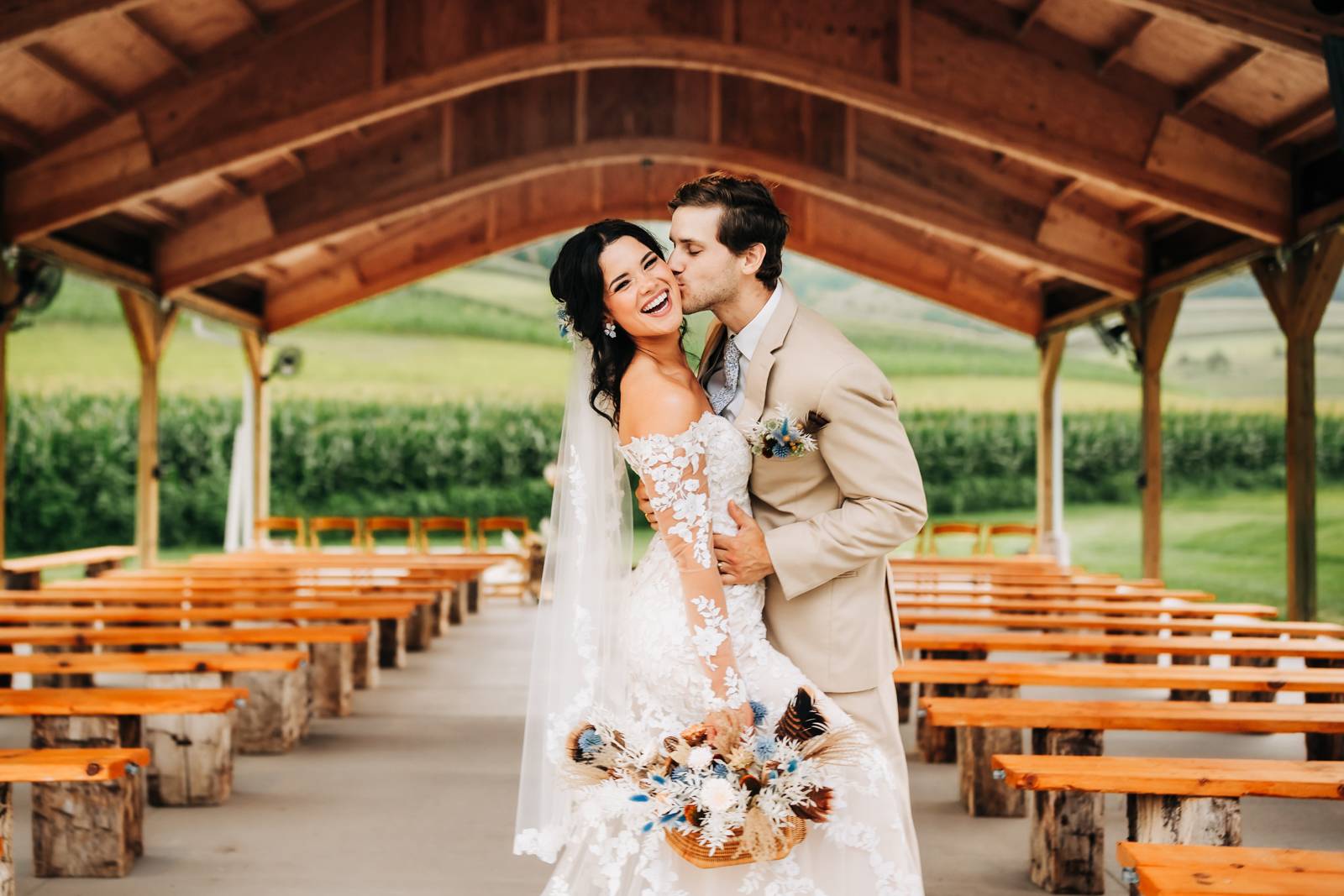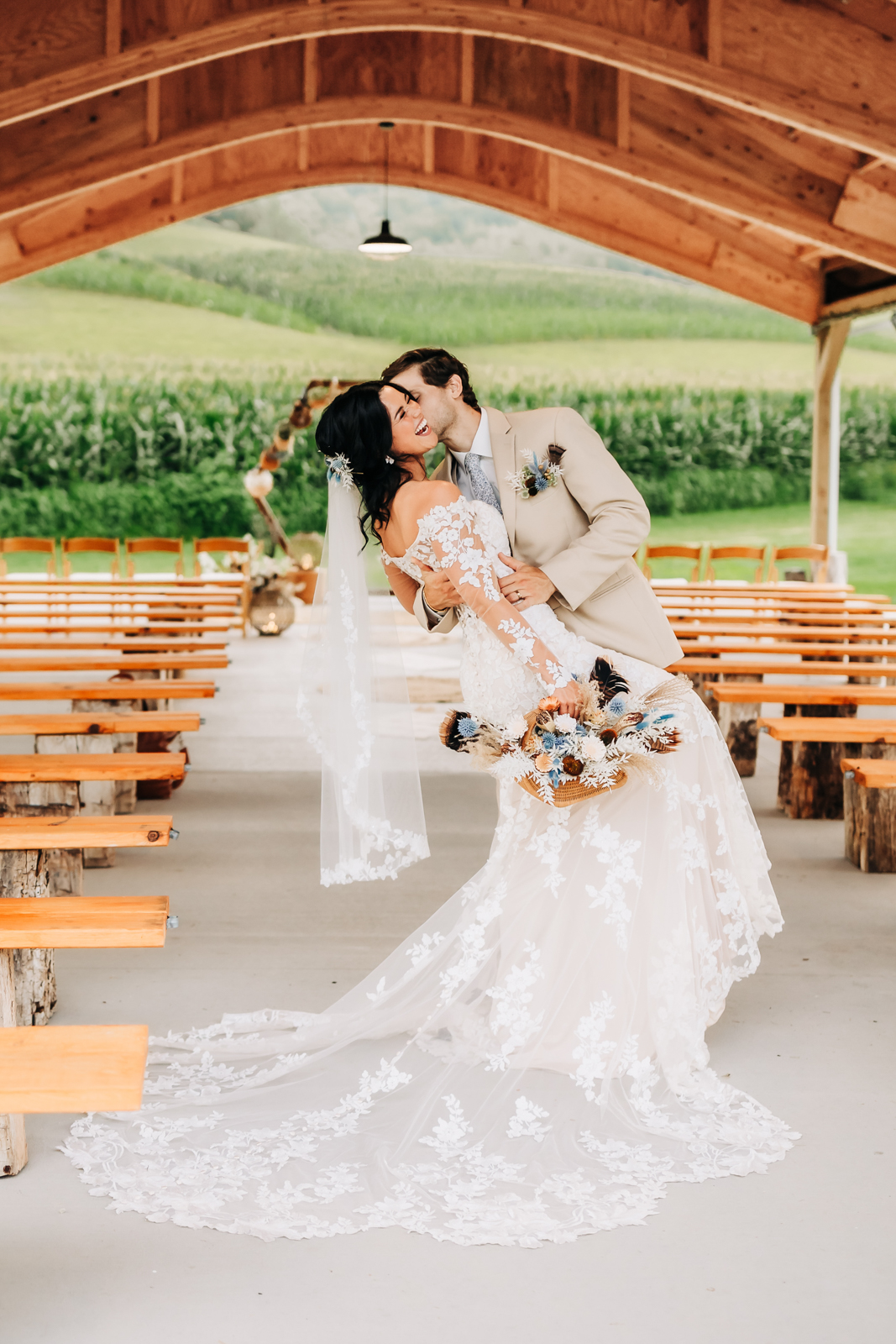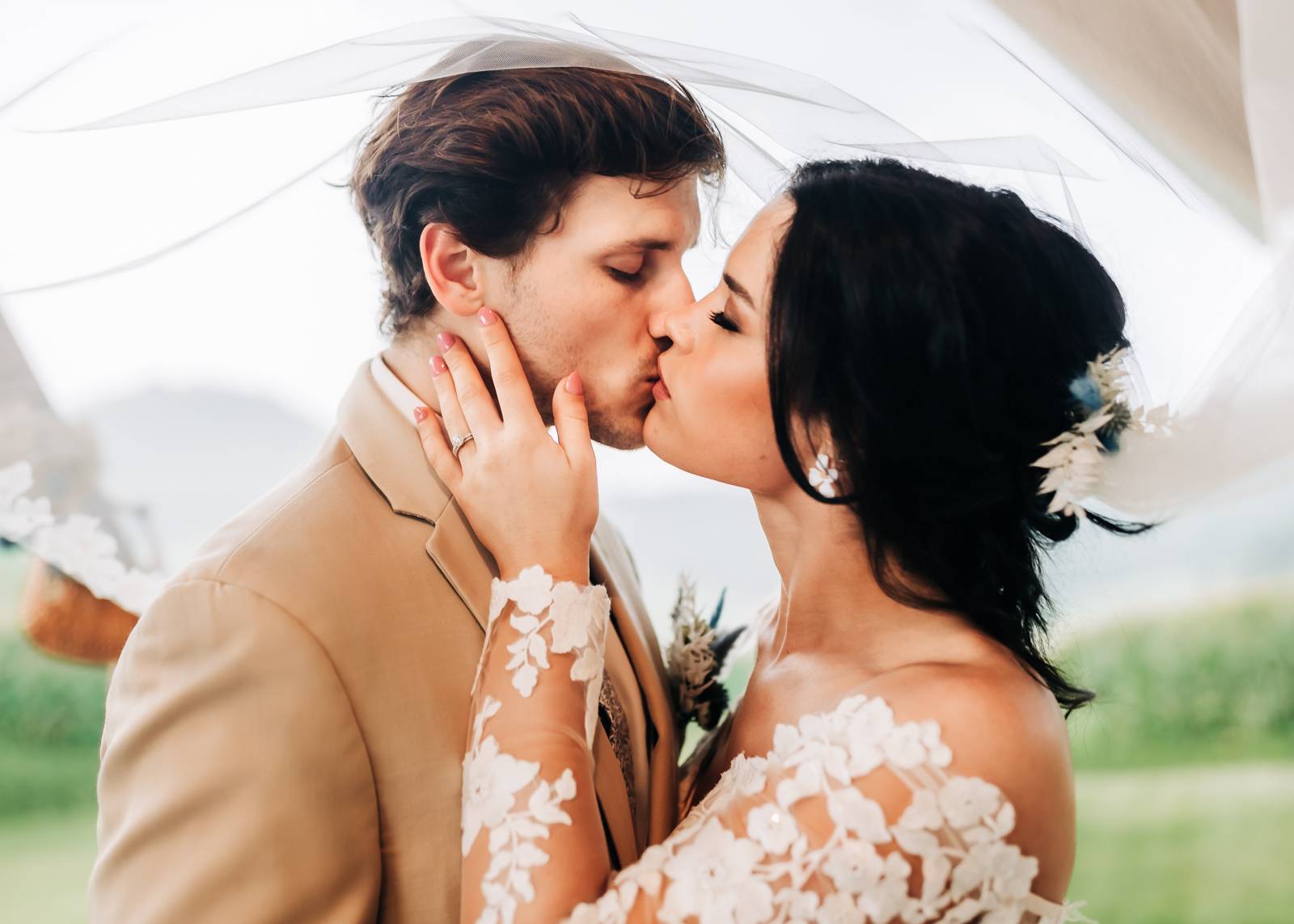 Resource Vintage Rental transformed this barn venue, complementing the rich wood tones with their rental selections of rustic harvest tables, cross back chairs, pendant lighting, and other charming pieces. Their selections created a cozy and enchanting atmosphere both indoors and out, from an outdoor lounge seating area to an elegant sweetheart table fit for a wedding design that marries rugged charm and refined beauty.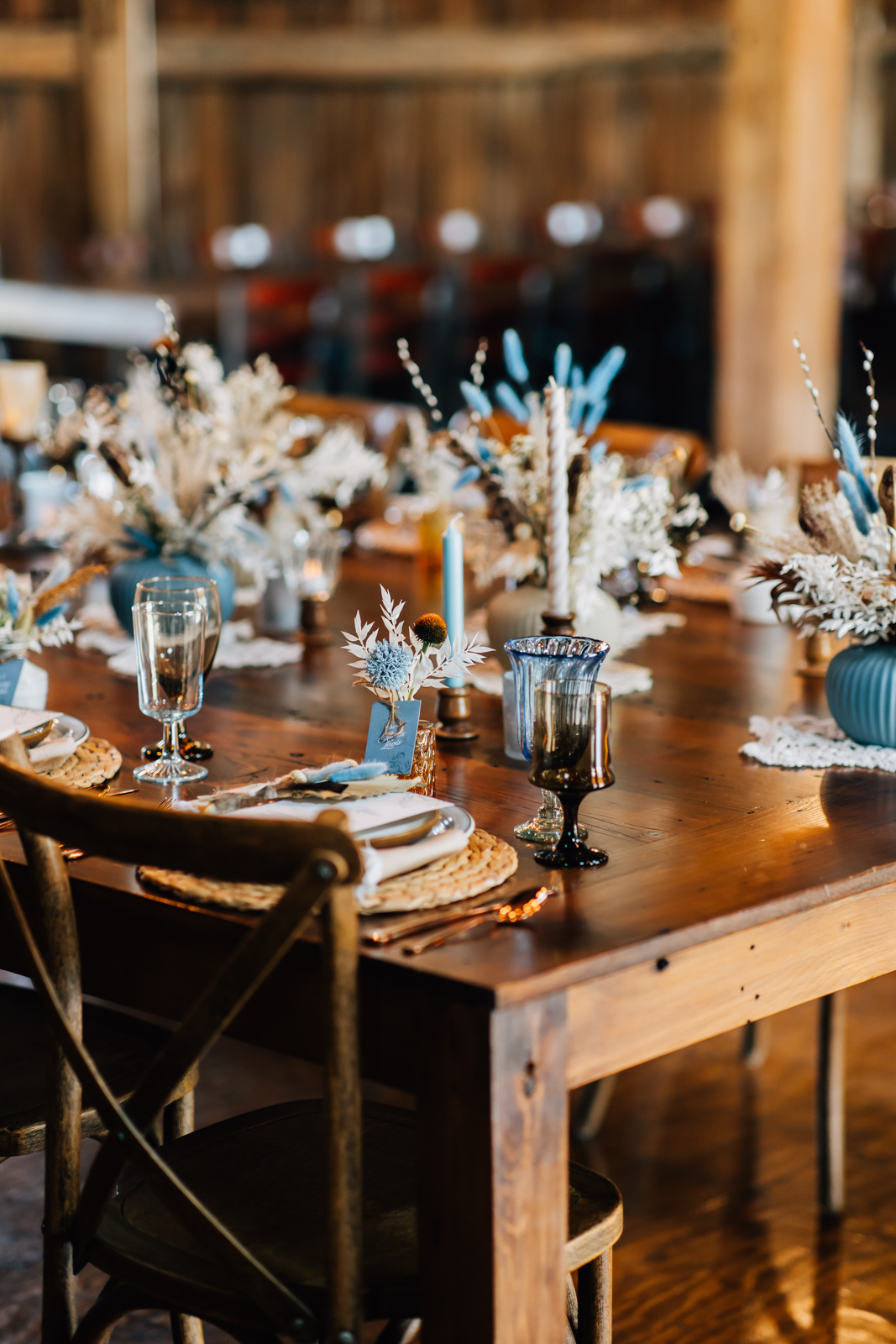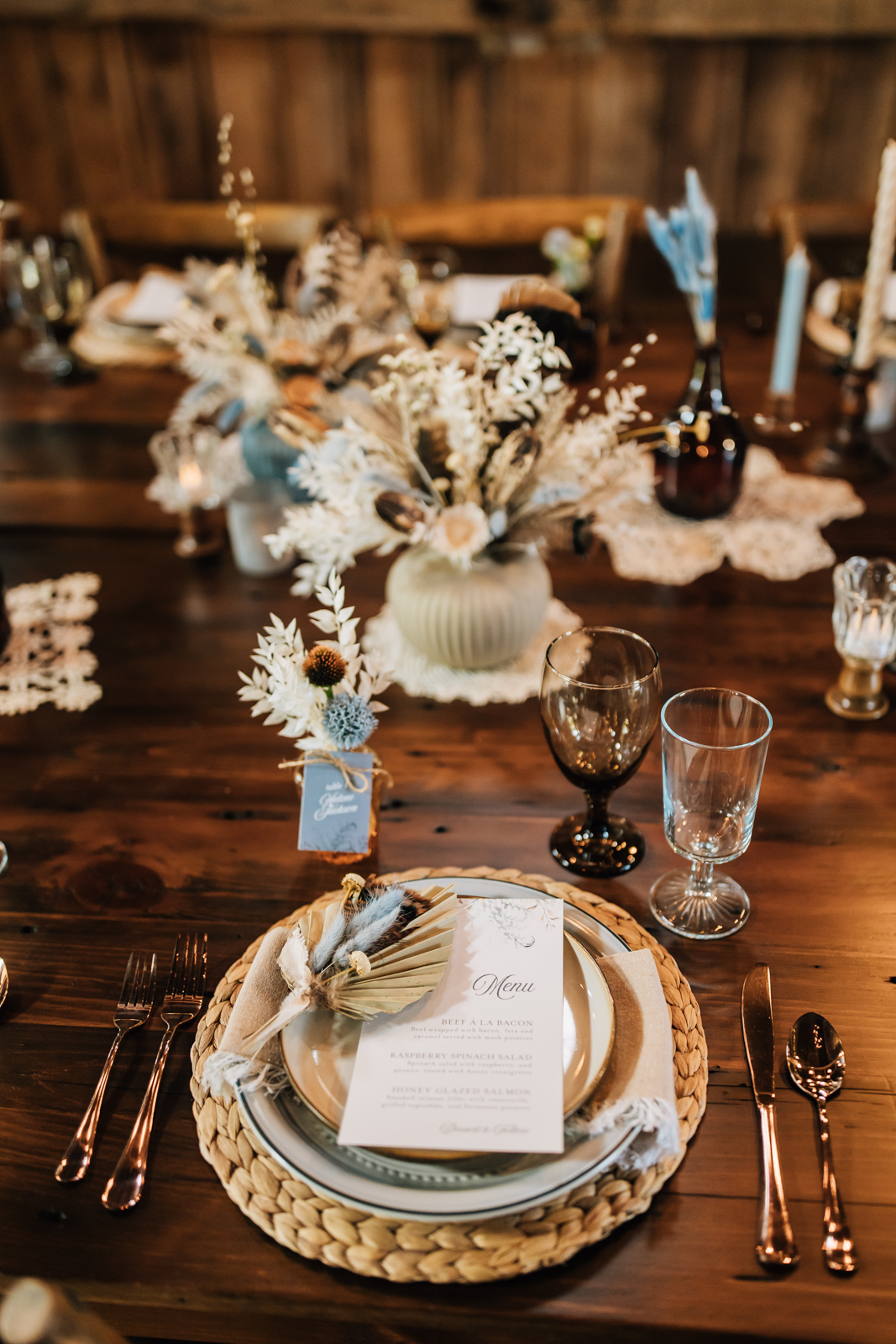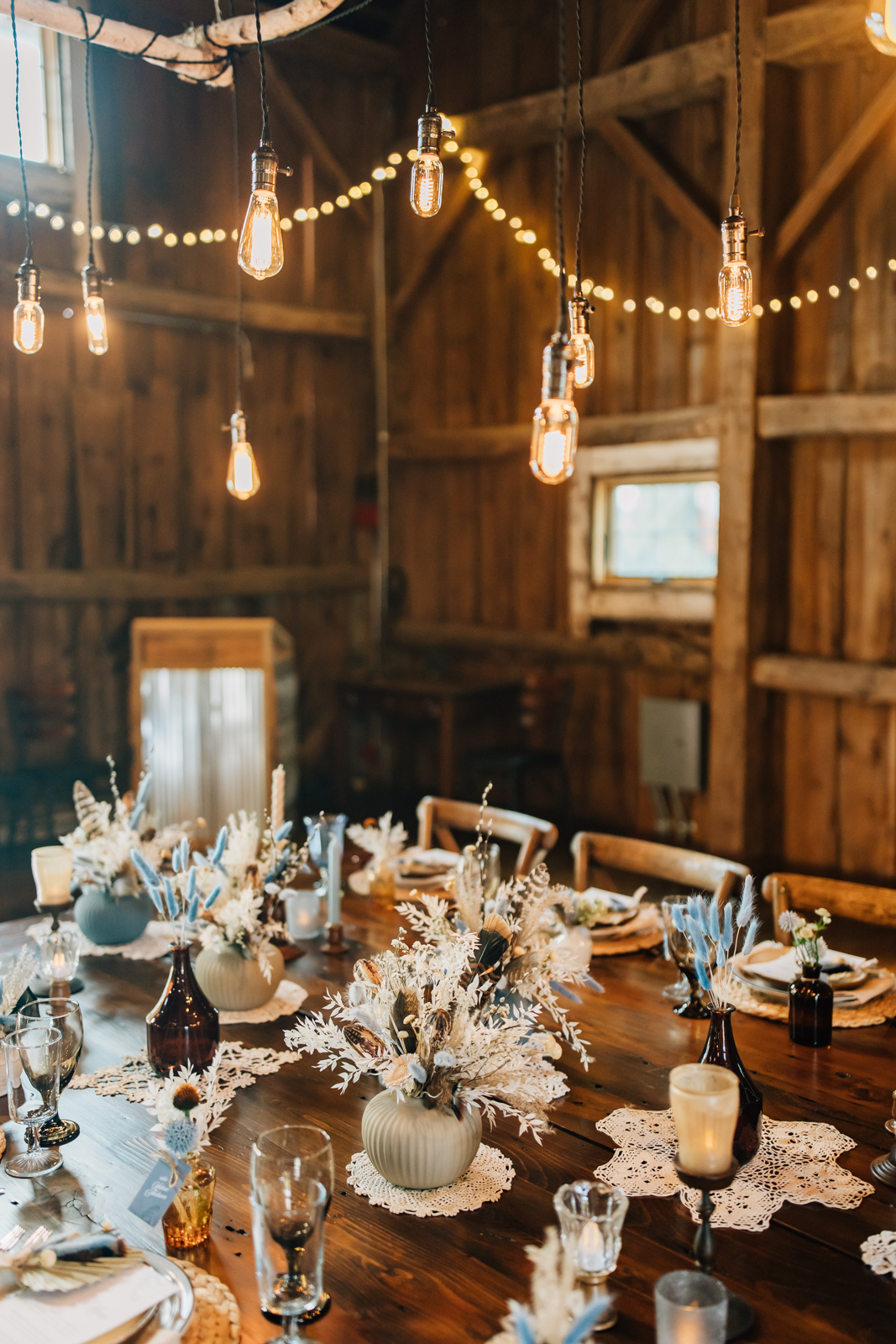 What better gift to send home with your best buds than dried flowers that will last for years to come, reminding them of your special day? Better yet, these adorable bud vases double as an escort card wall, guiding each guest to their seat for the reception!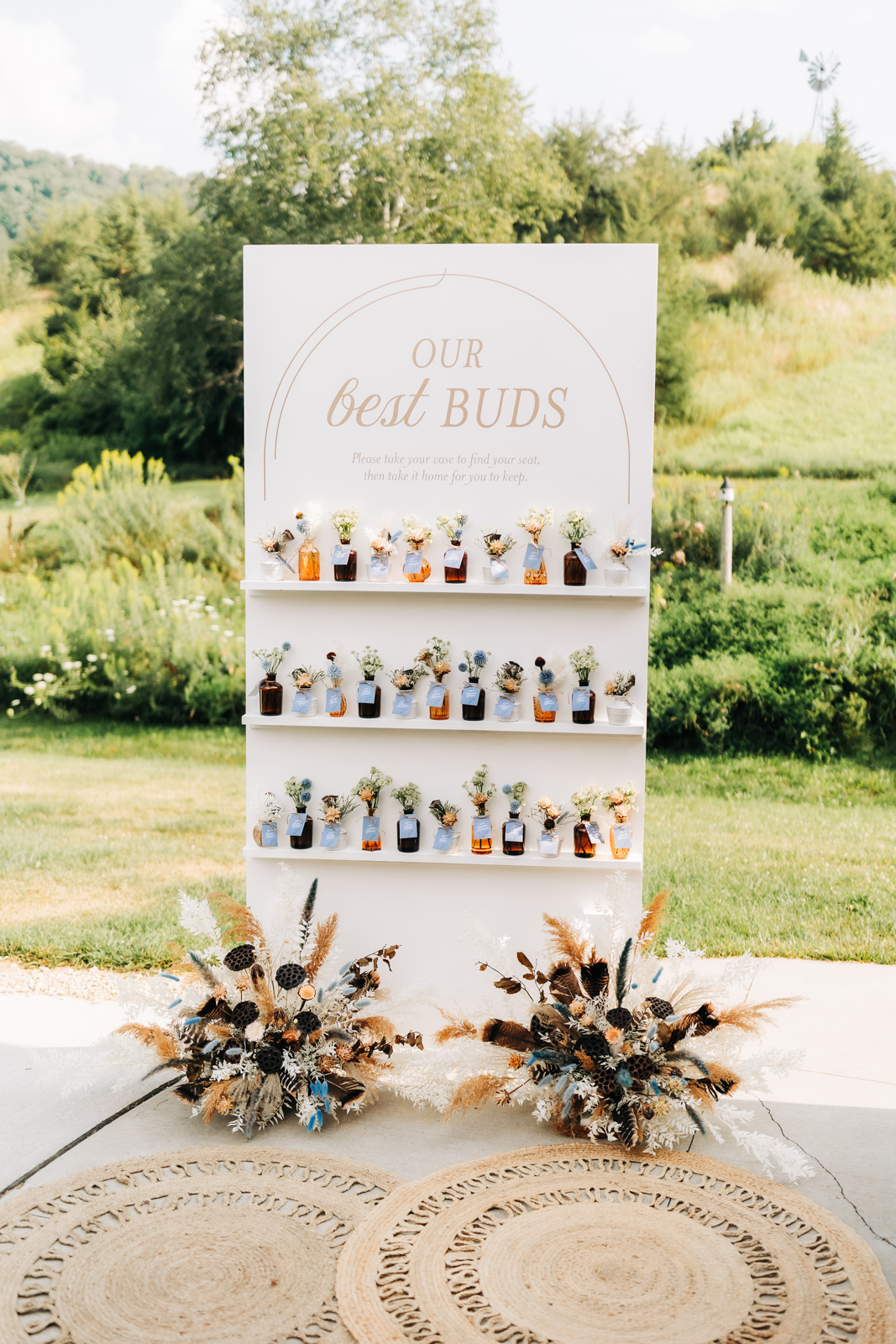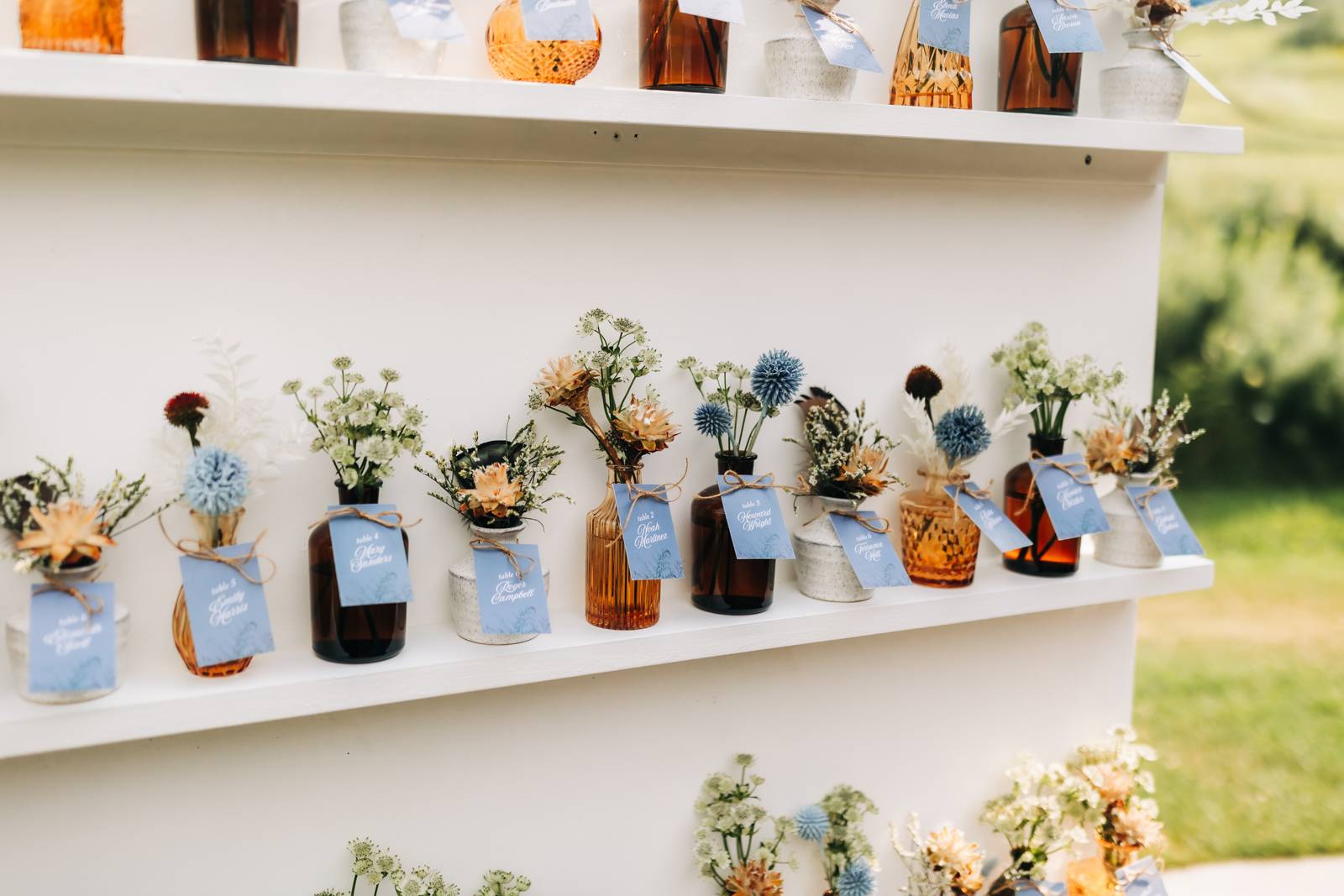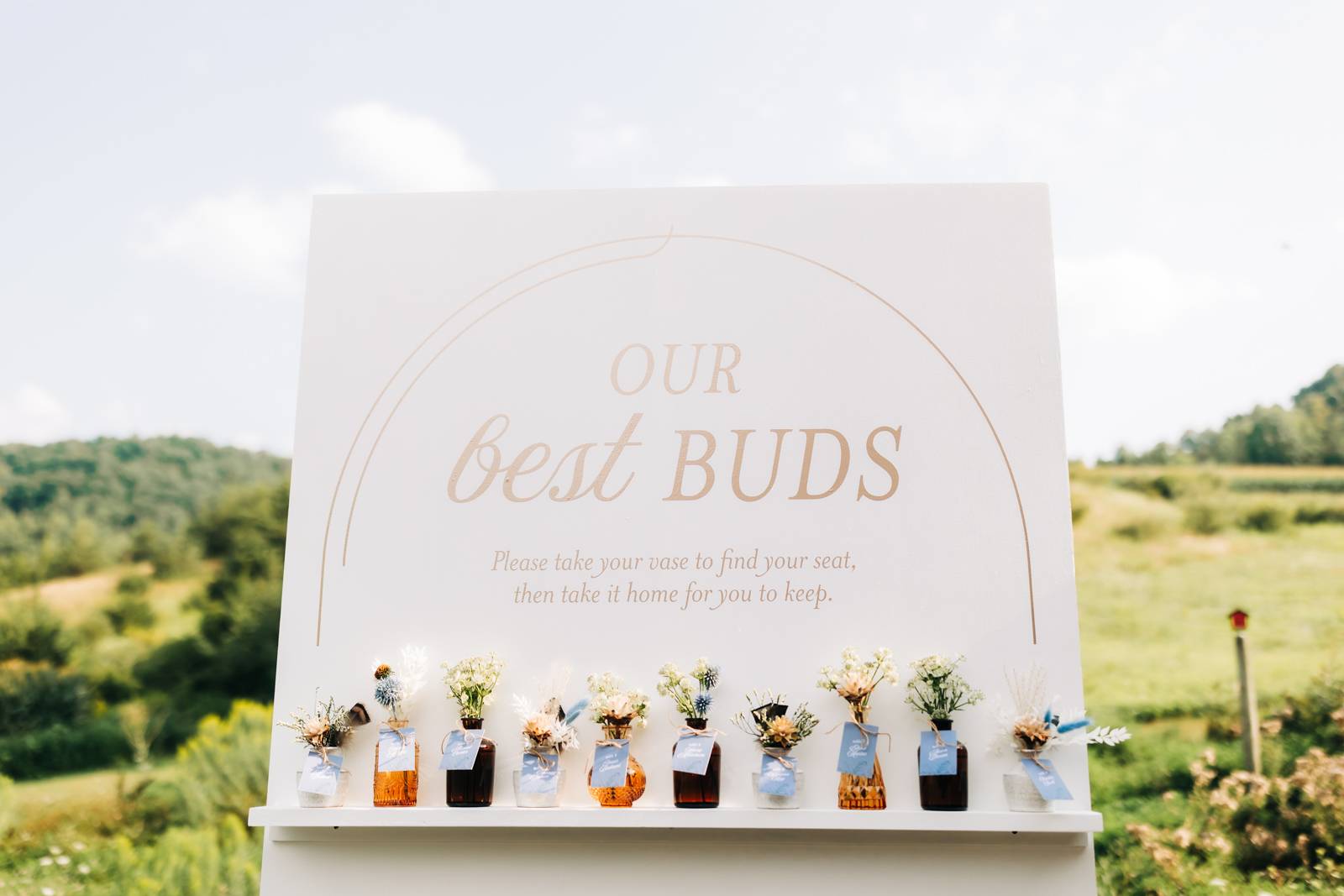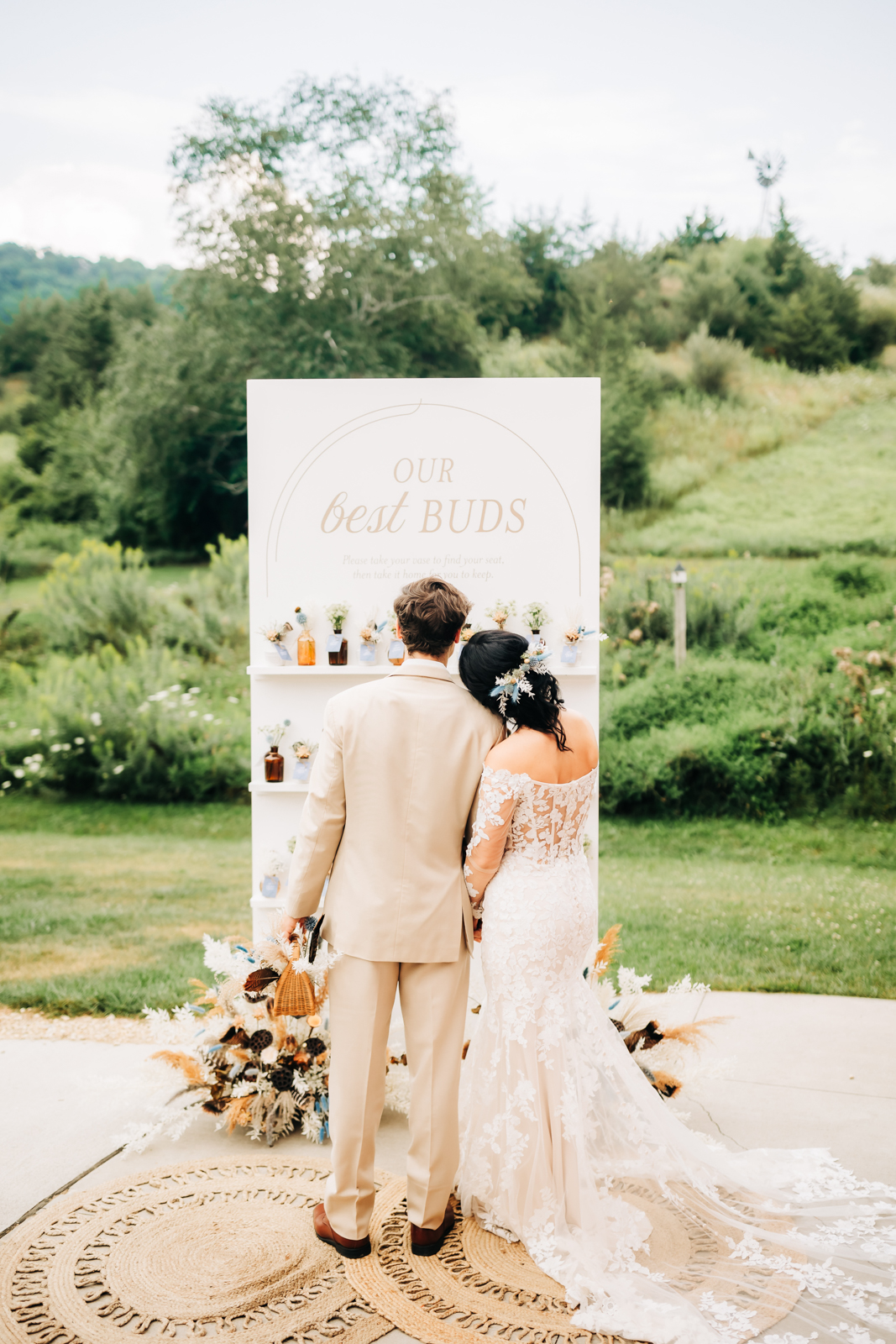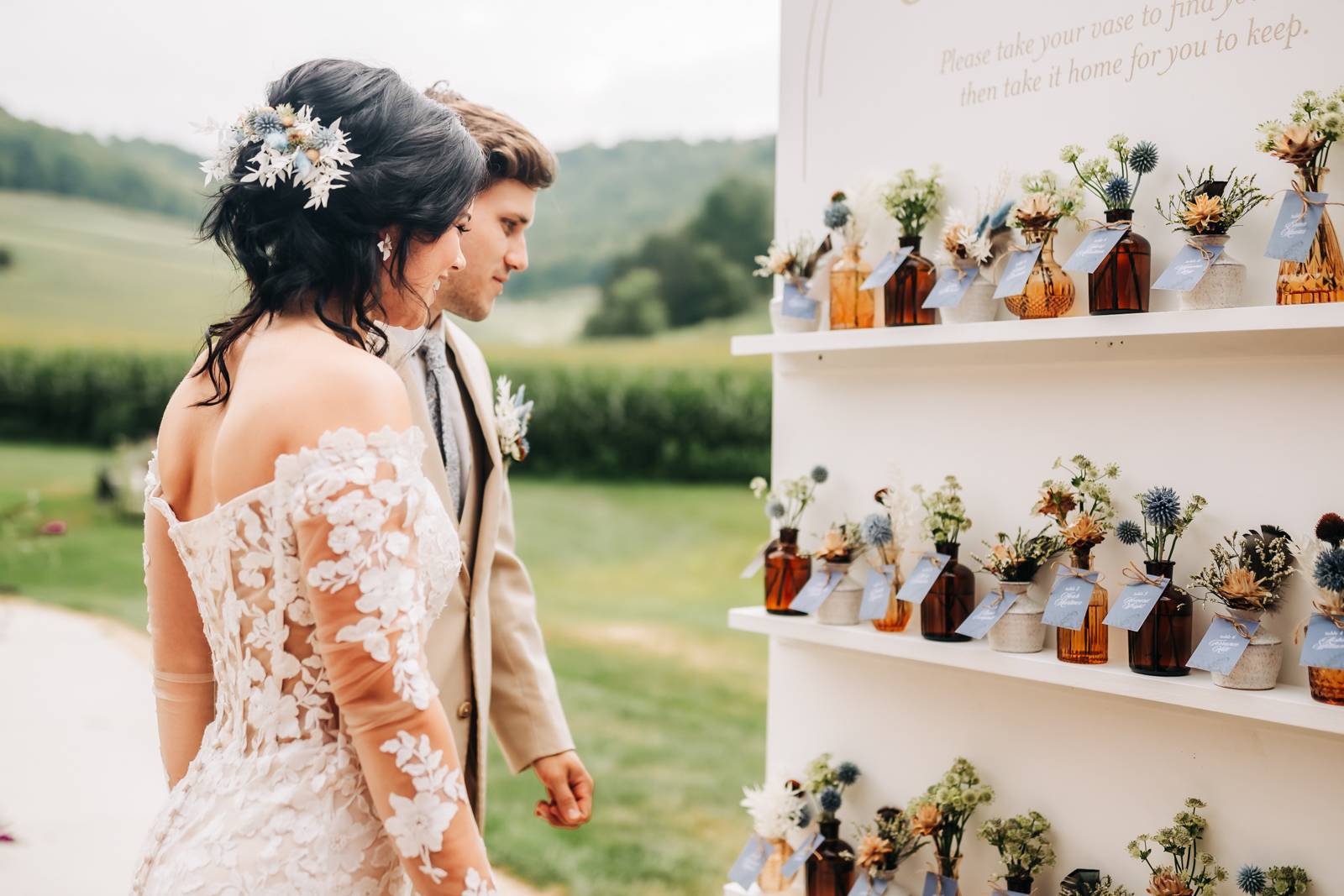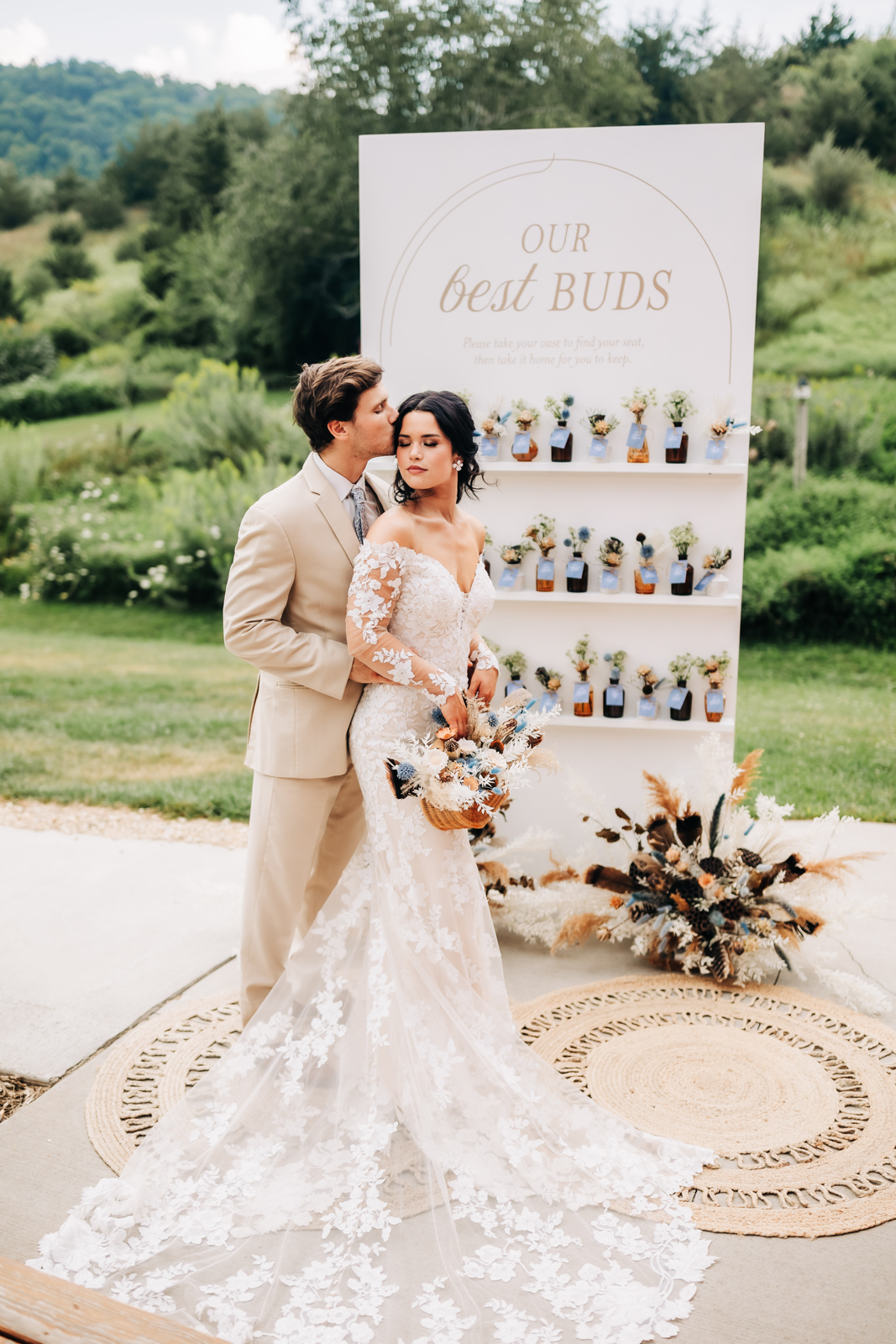 Nestled in the embrace of La Crosse County, Wisconsin's countryside, Horstmann Homestead Farm exudes a sense of natural beauty and tranquility. Passed down through five generations, their breathtaking property and charmingly rustic barn venue provided a homely, earthy, and picturesque backdrop for a countryside wedding celebration.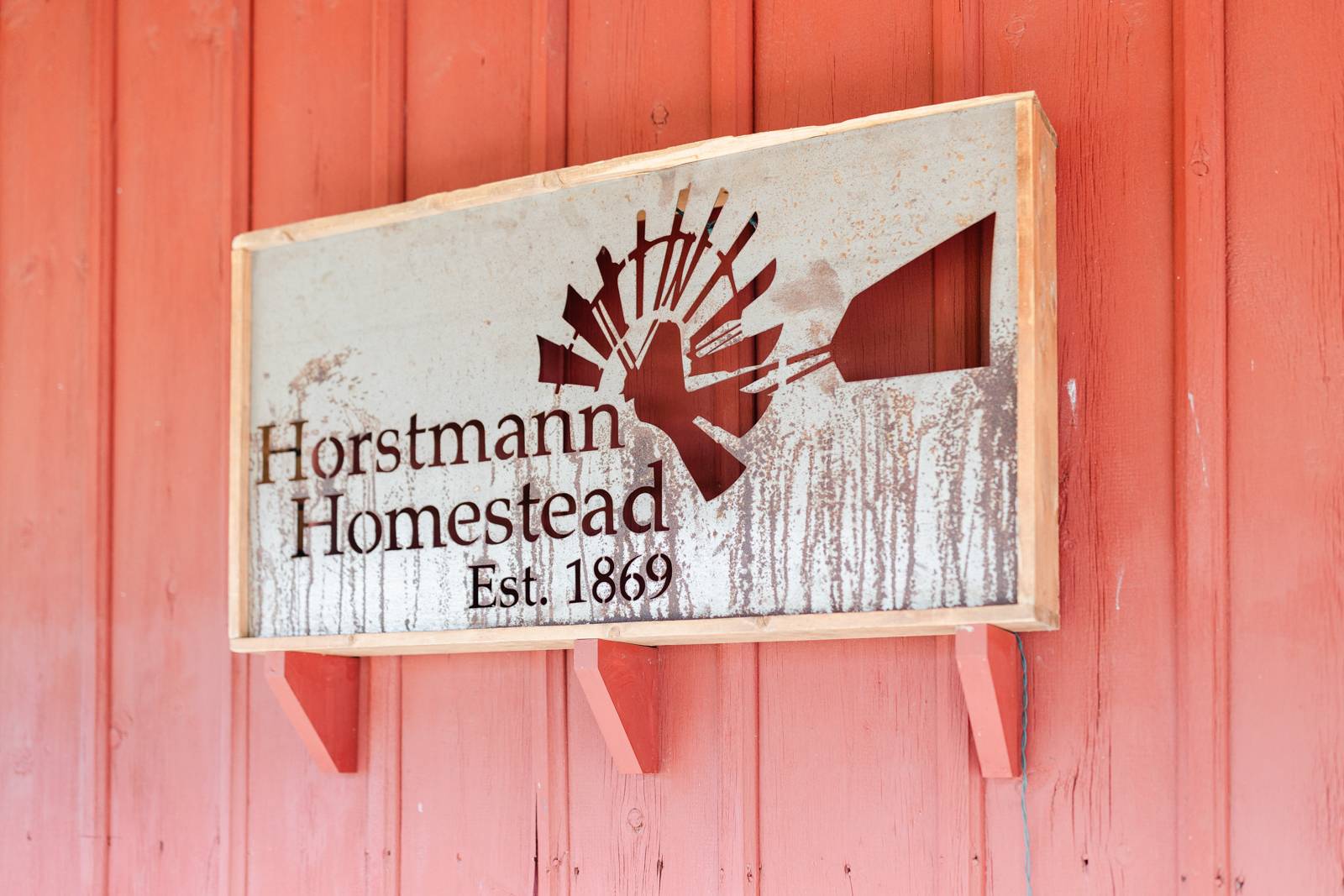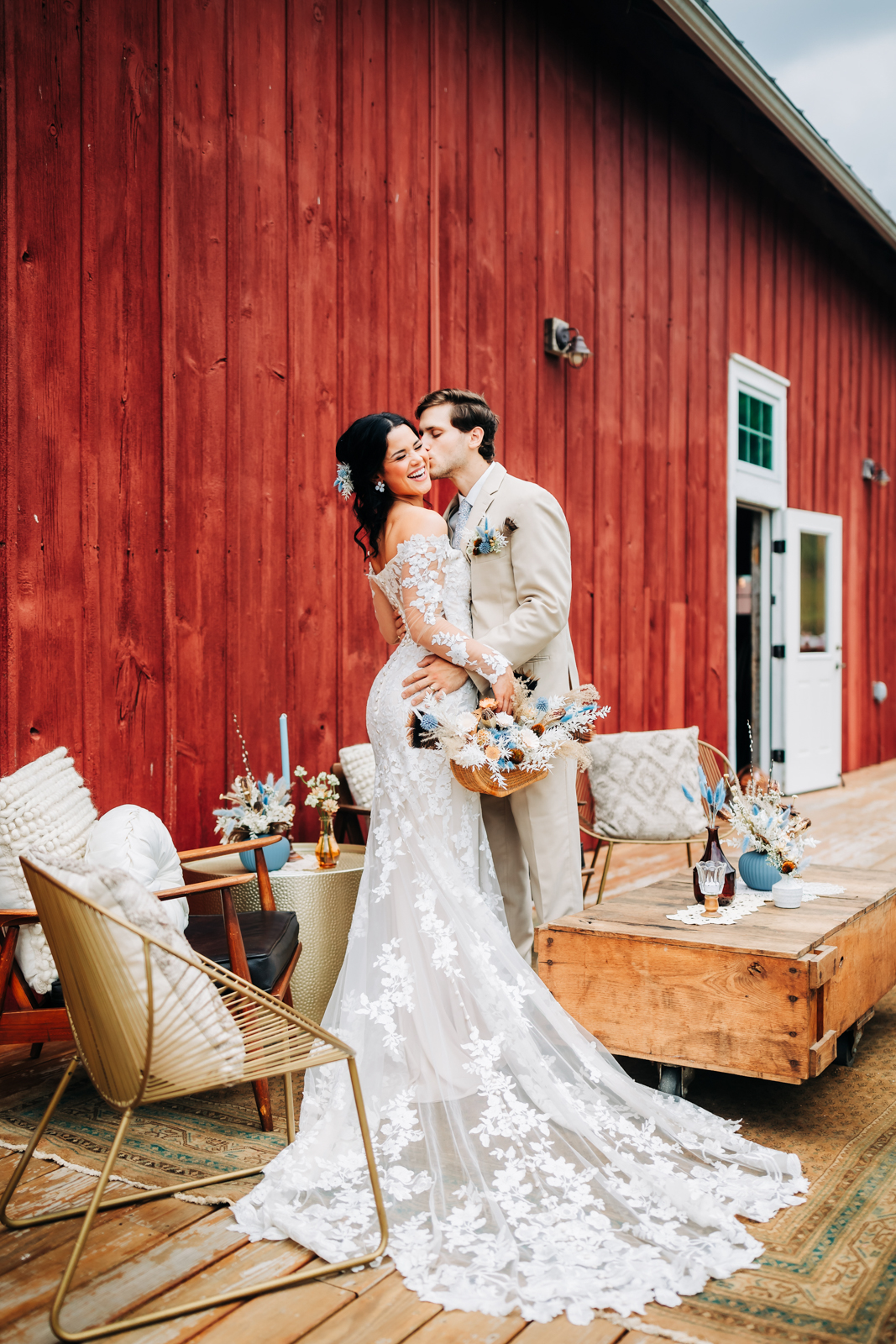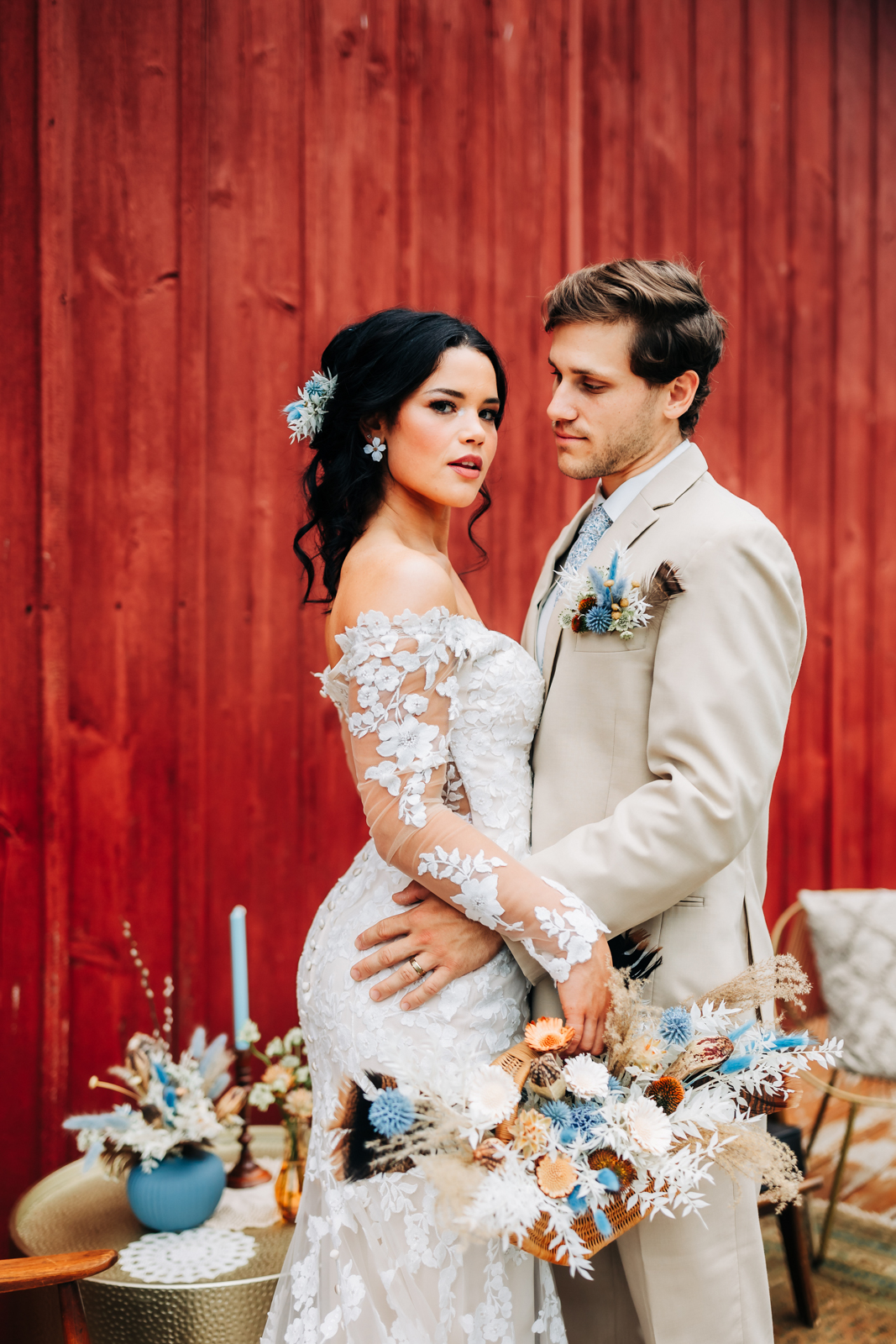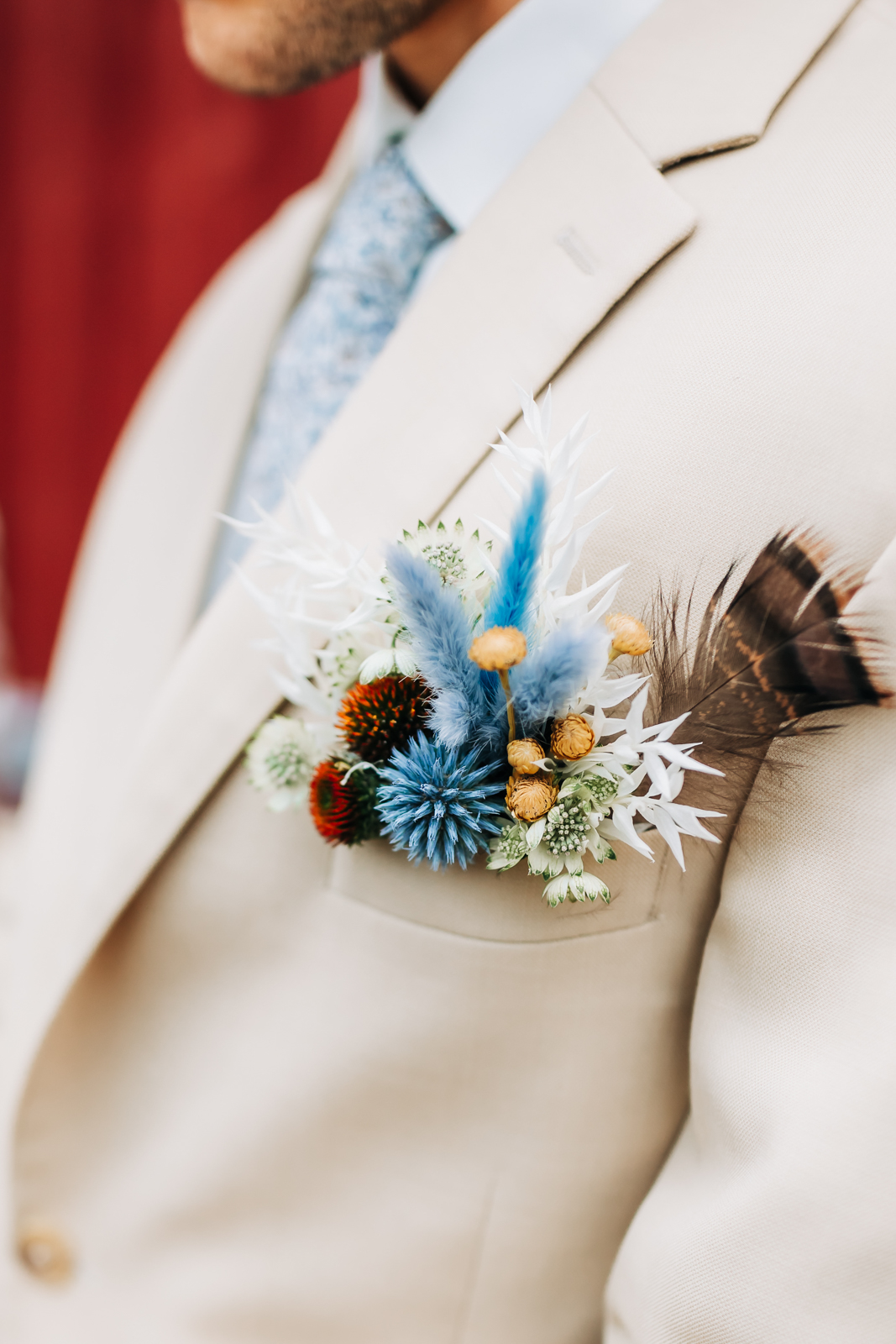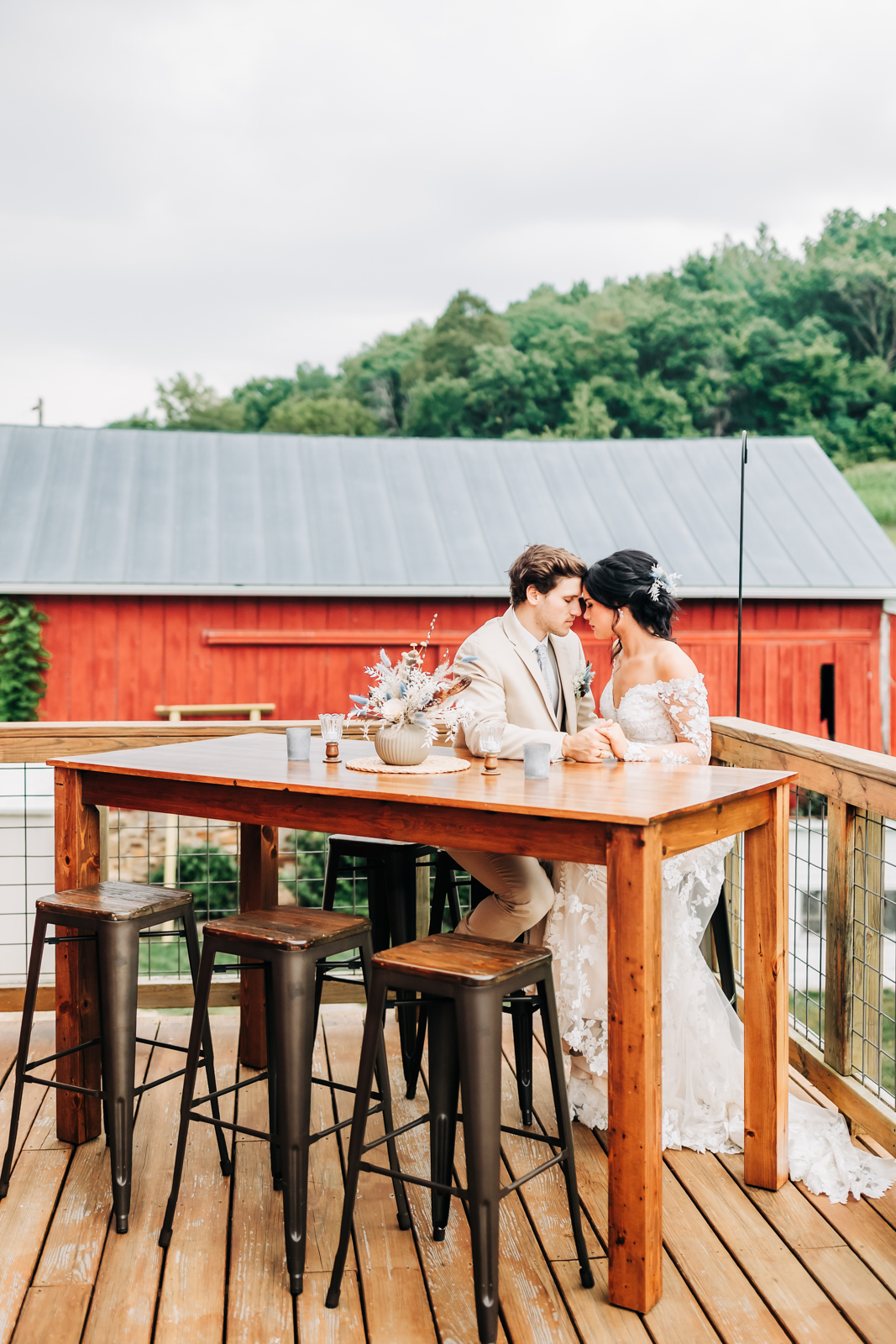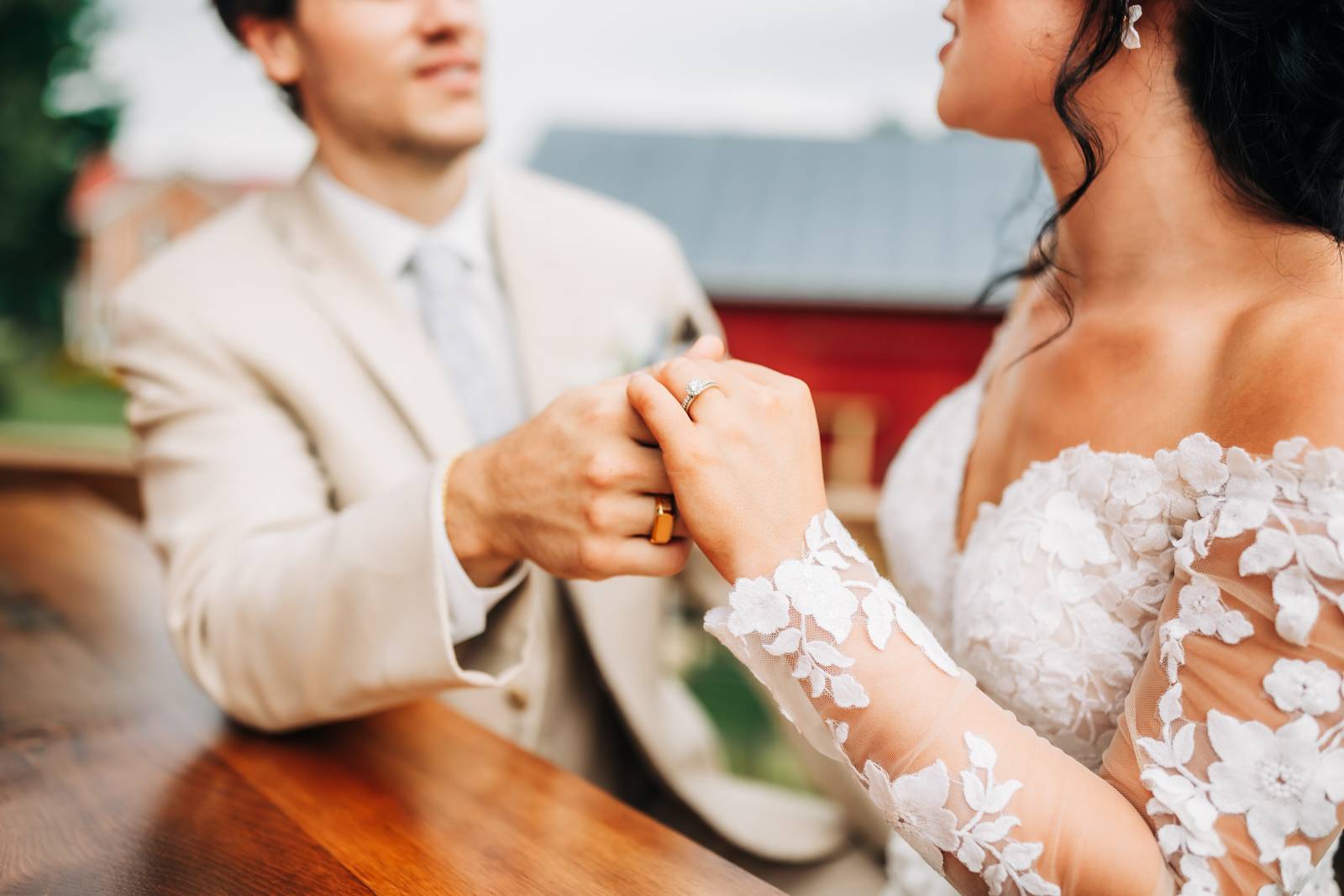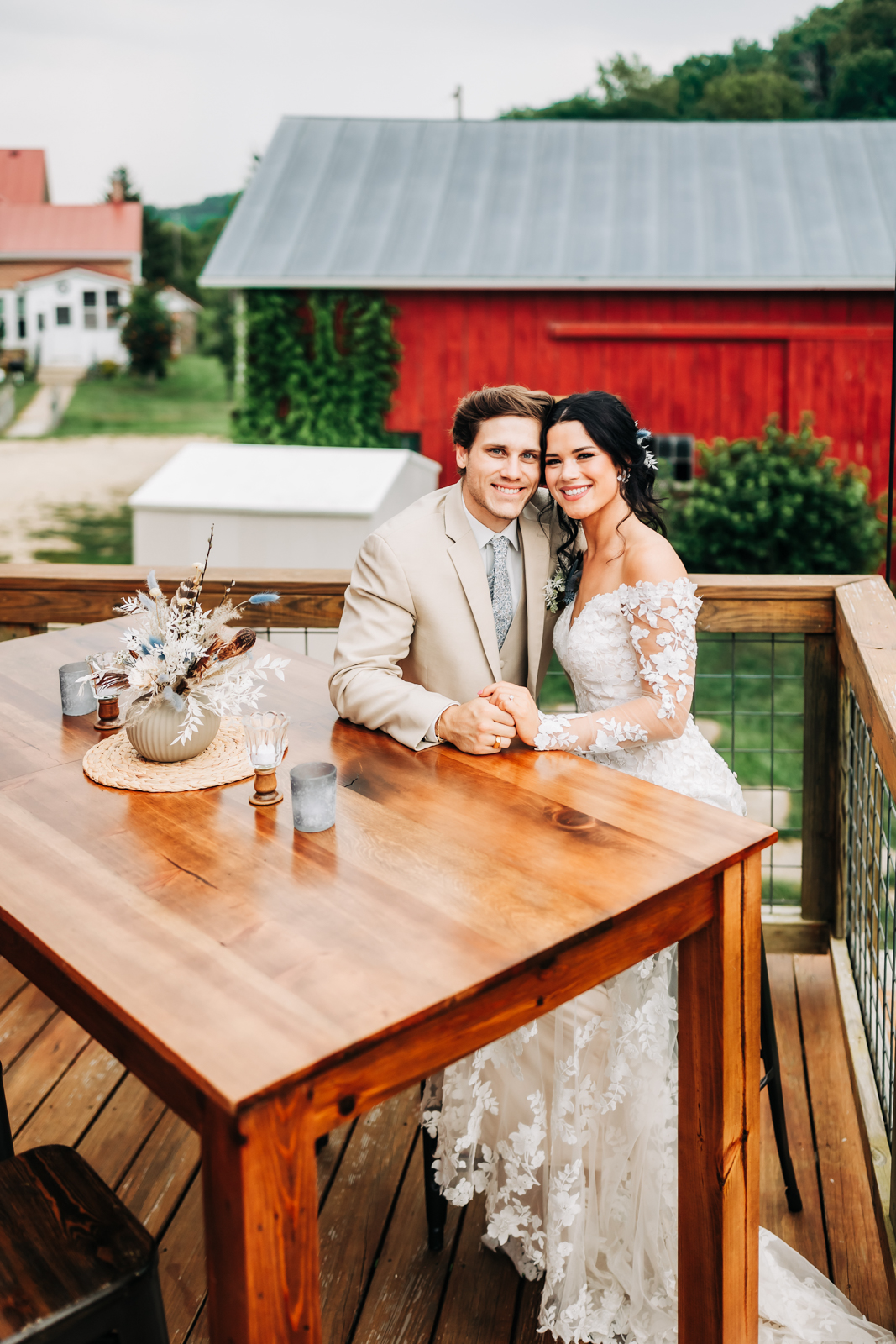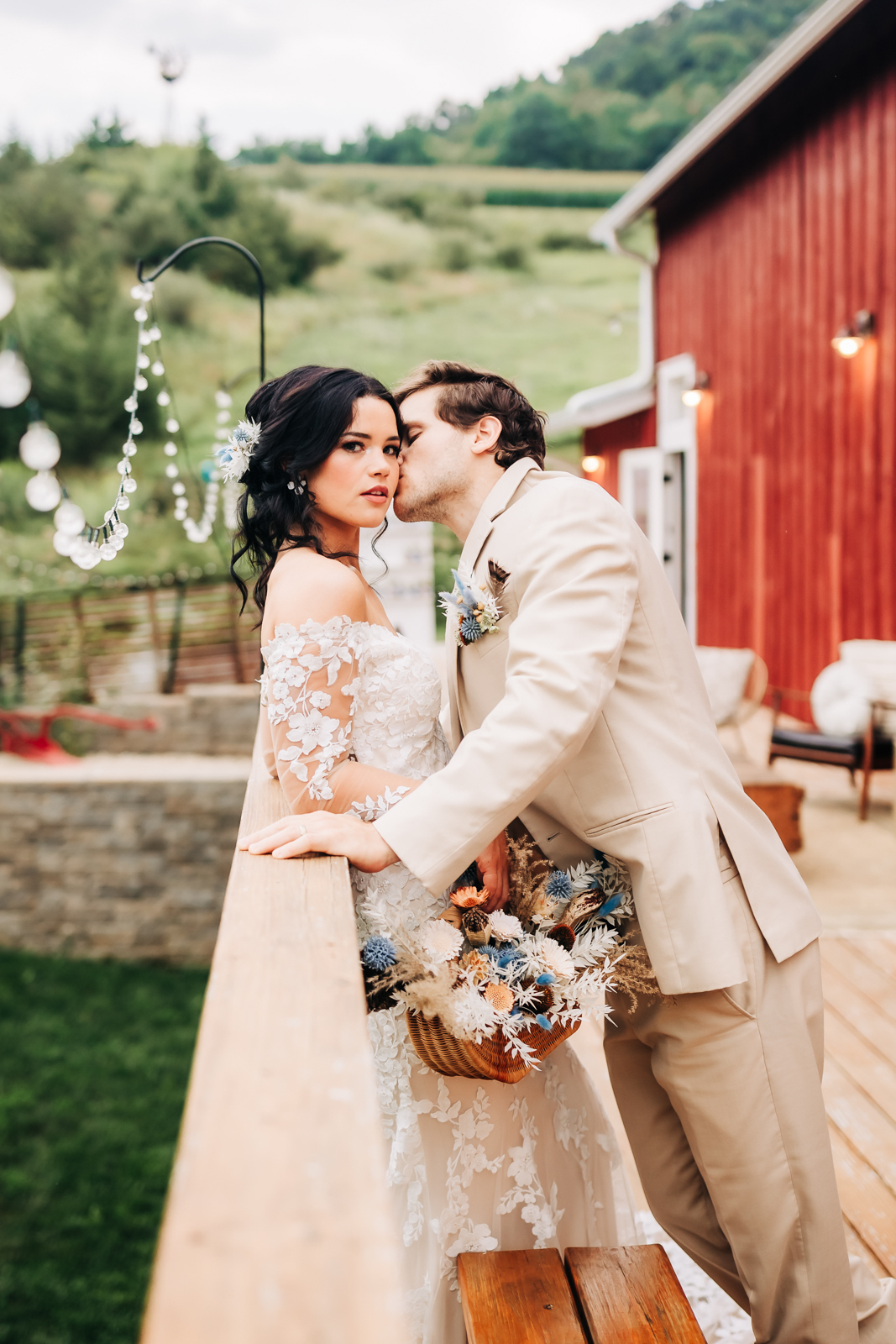 Crumbtastic Cakery provided a delectable touch with a simple yet playful cake design. Adorned with blue teardrop detailing and embellished with whimsical dried flowers, the cake was a delightful creation adding a taste of sweetness to the festivities!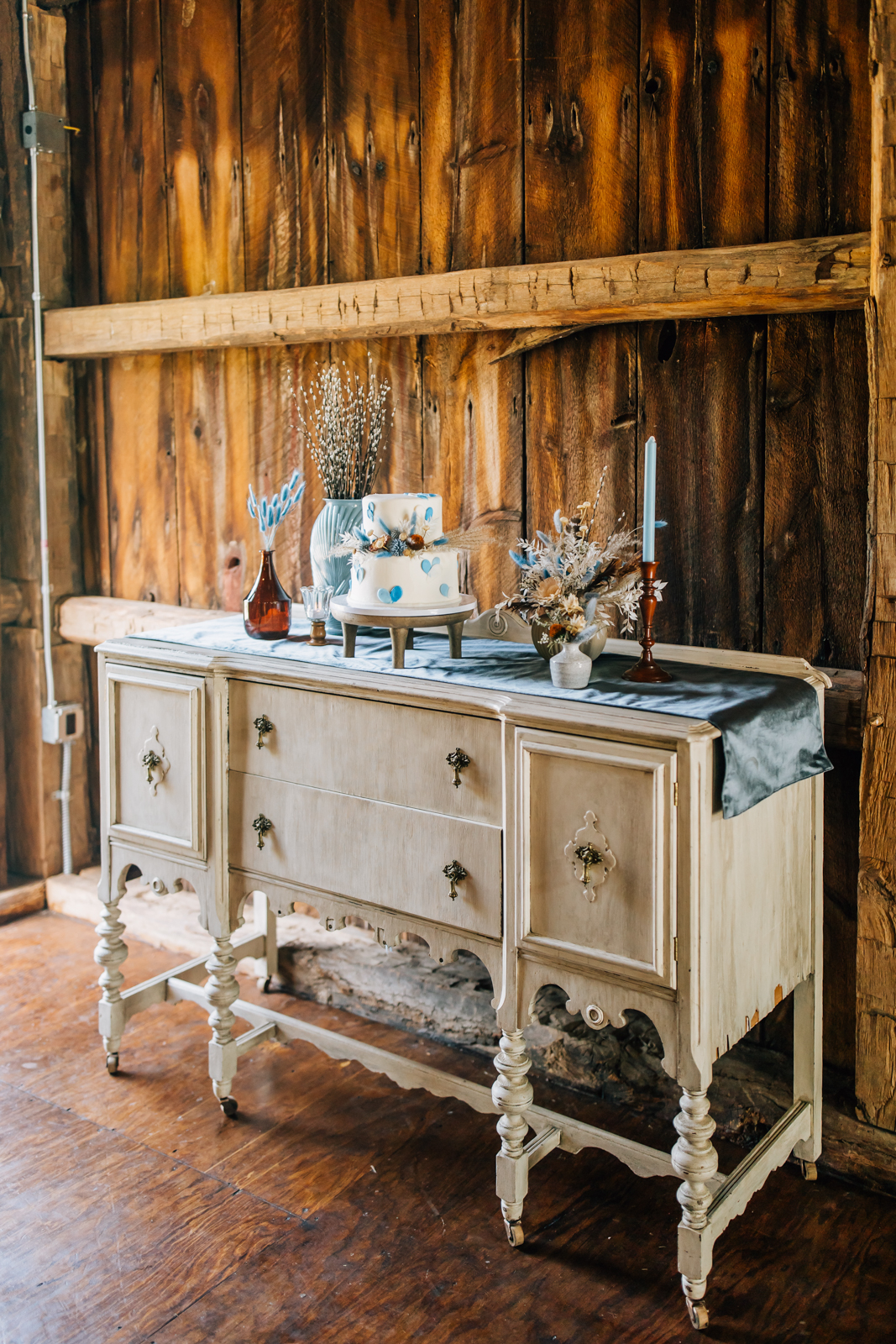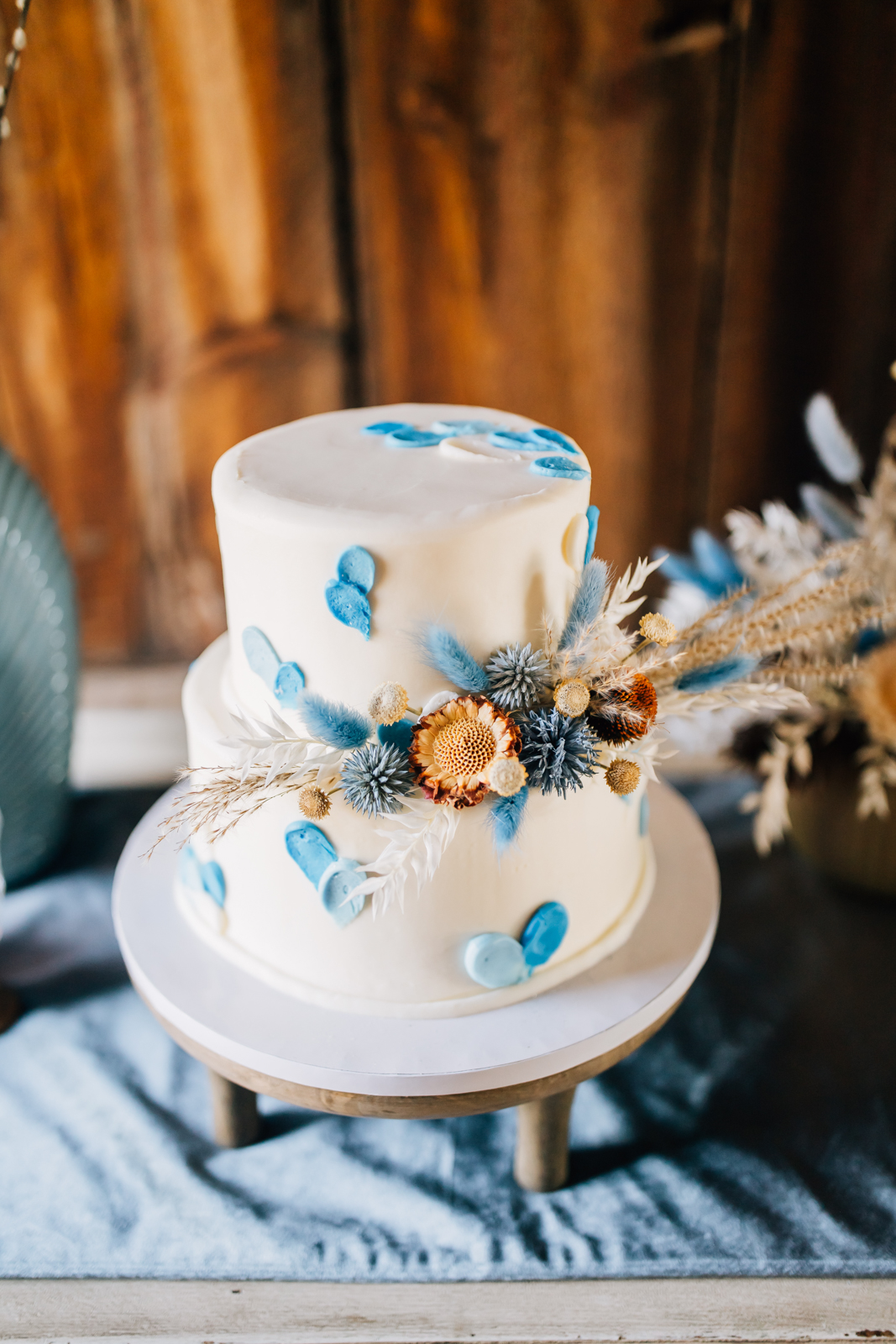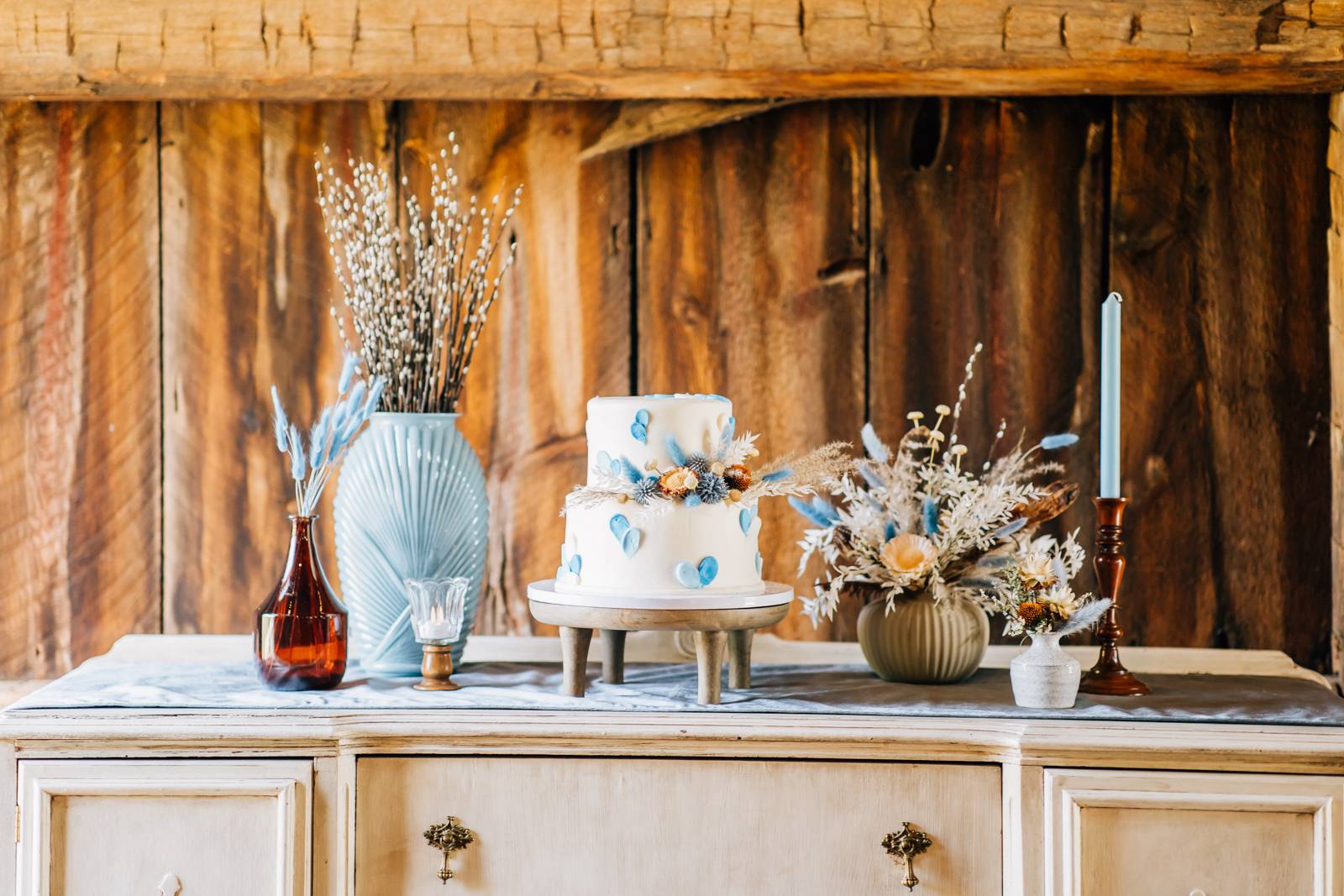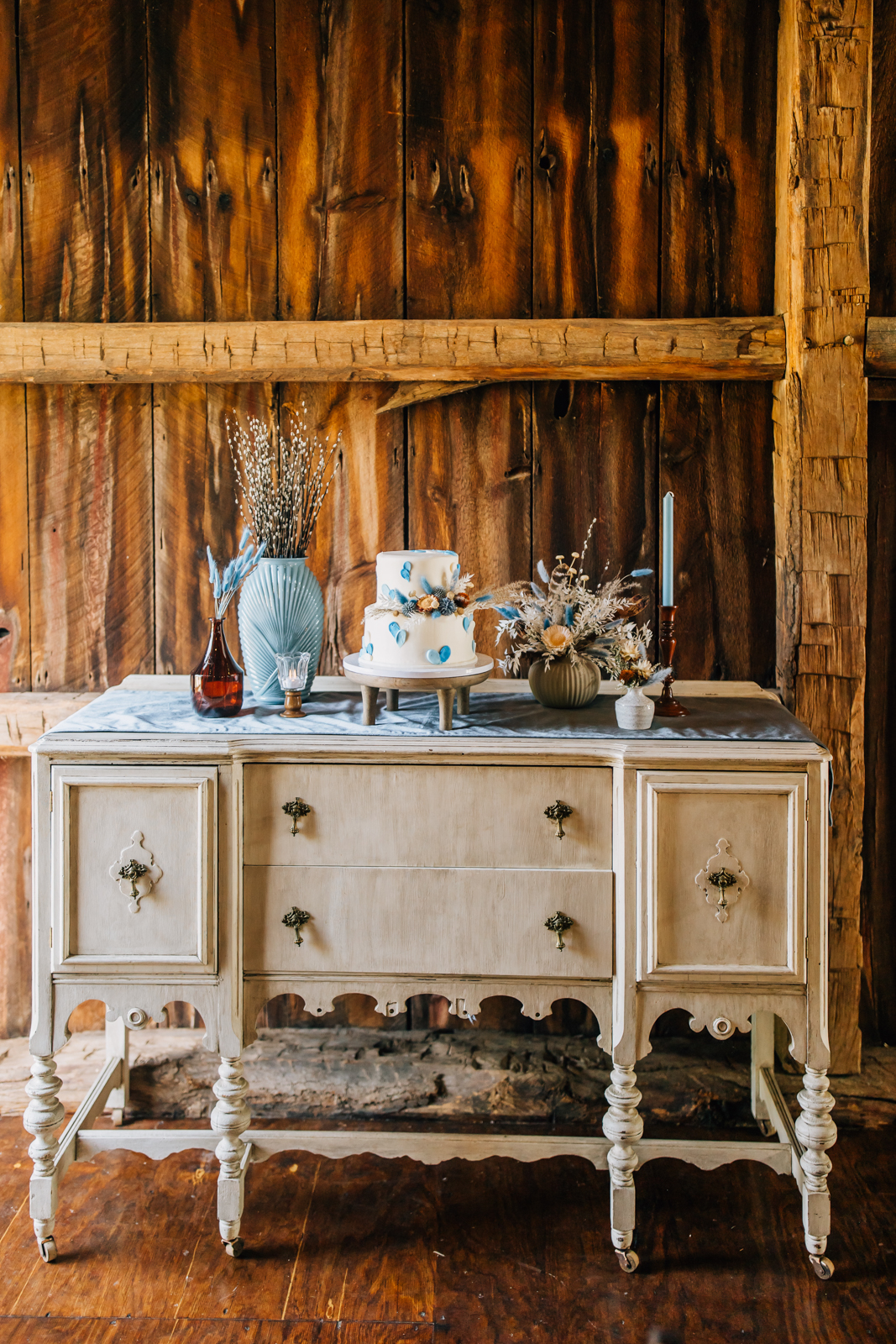 The talented eye behind the camera, forHisglory Photography, skillfully translated the day's warmth, love, and beauty into captivating visuals. Their focus on detail ensured that each moment was thoughtfully documented, preserving the essence of the event.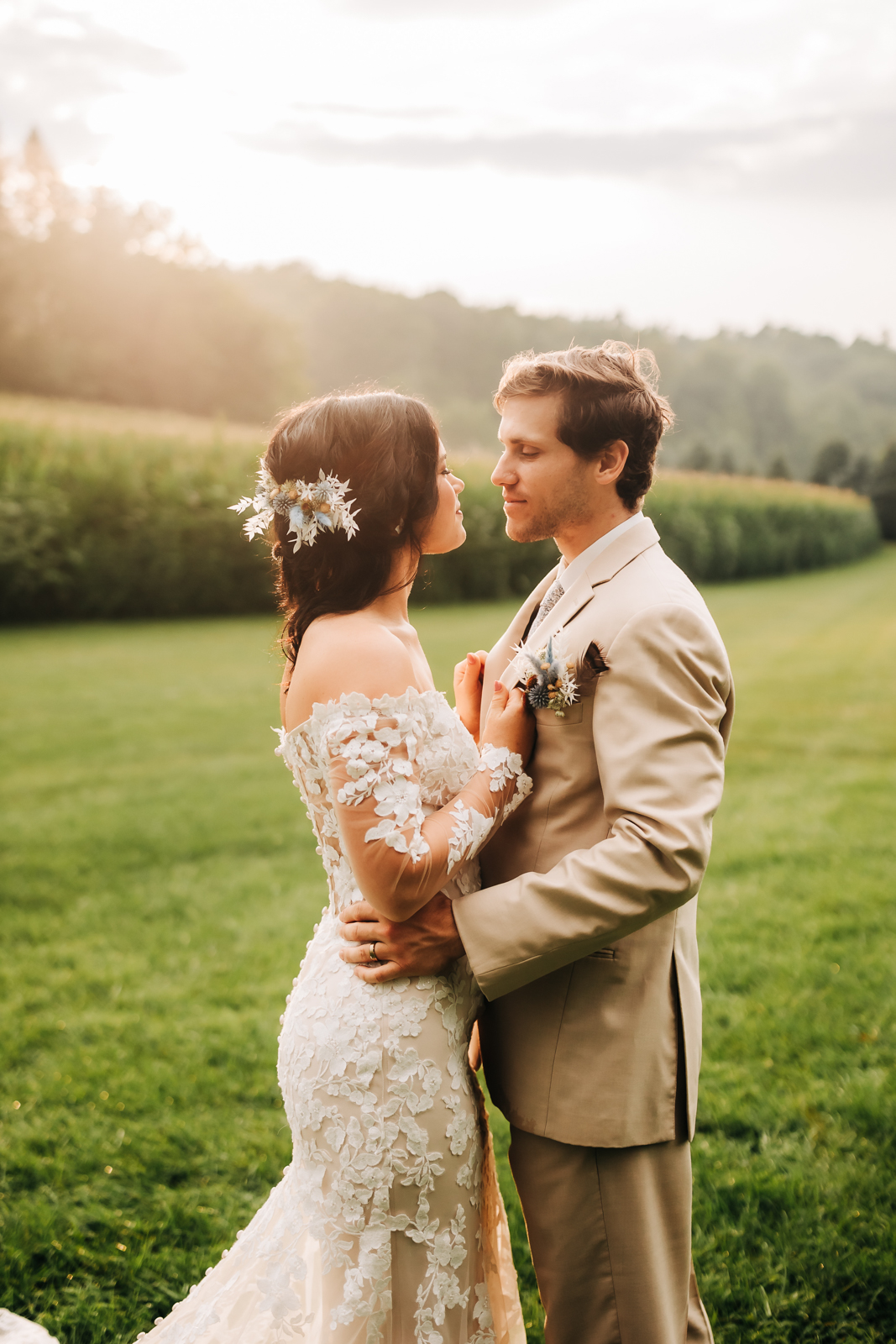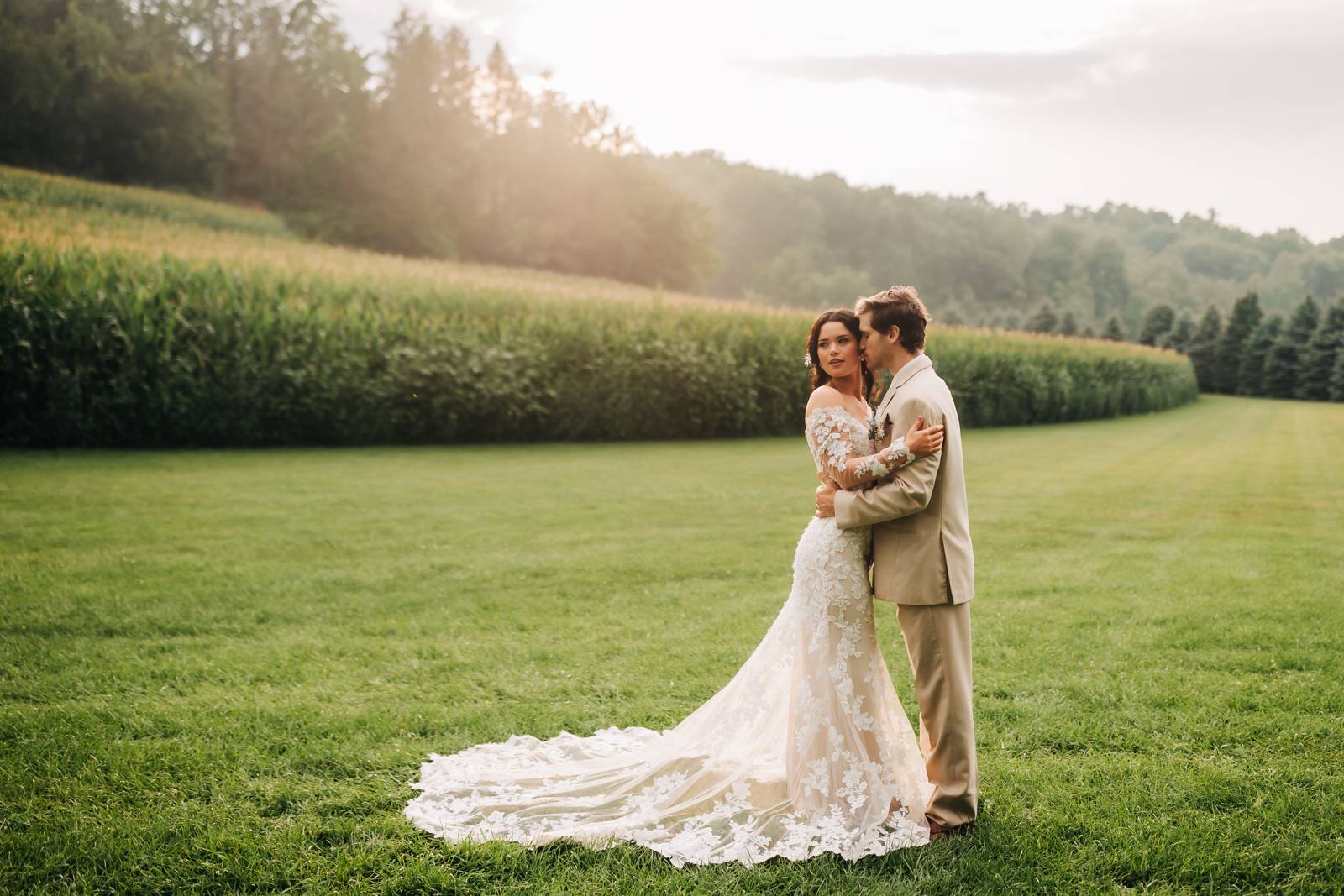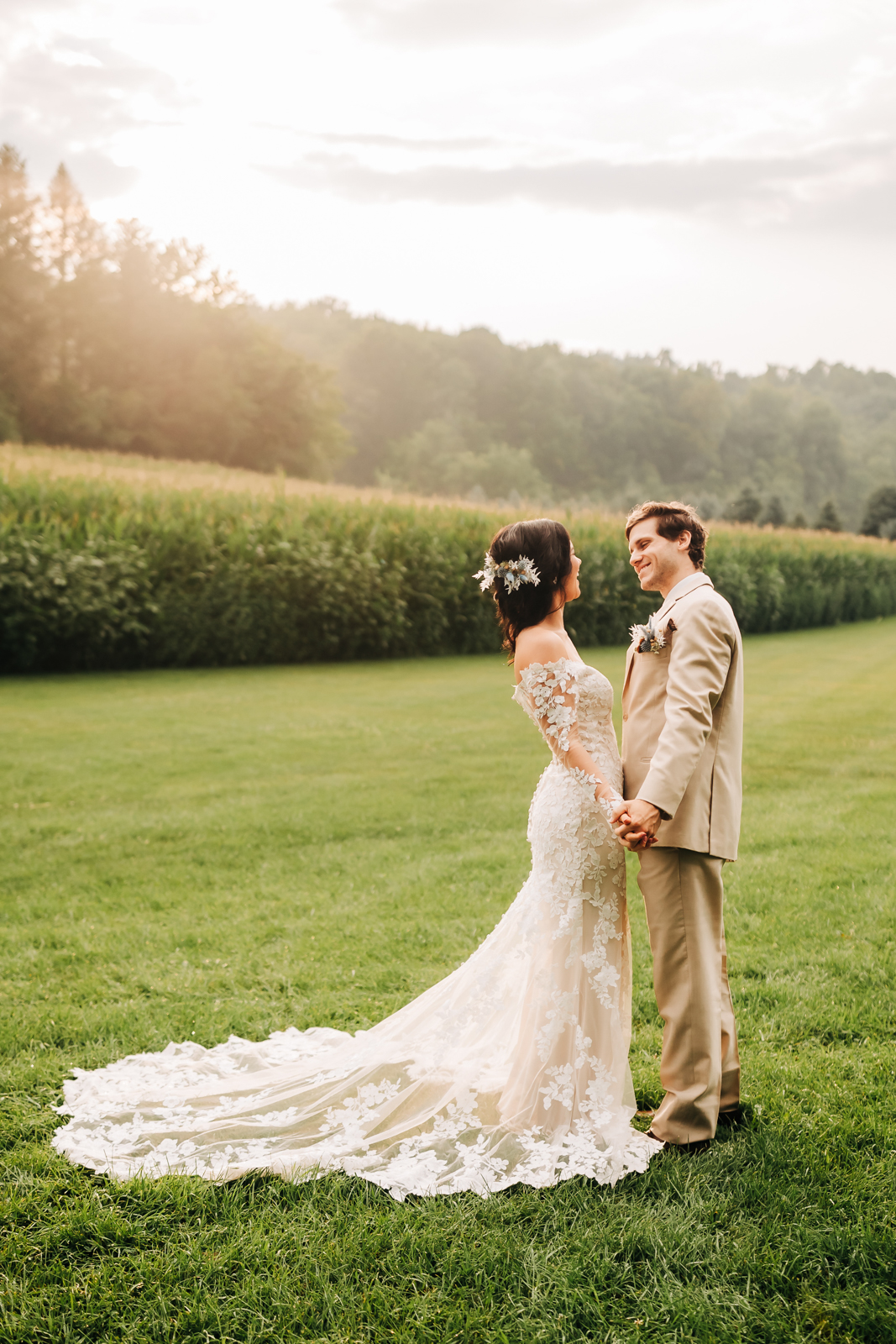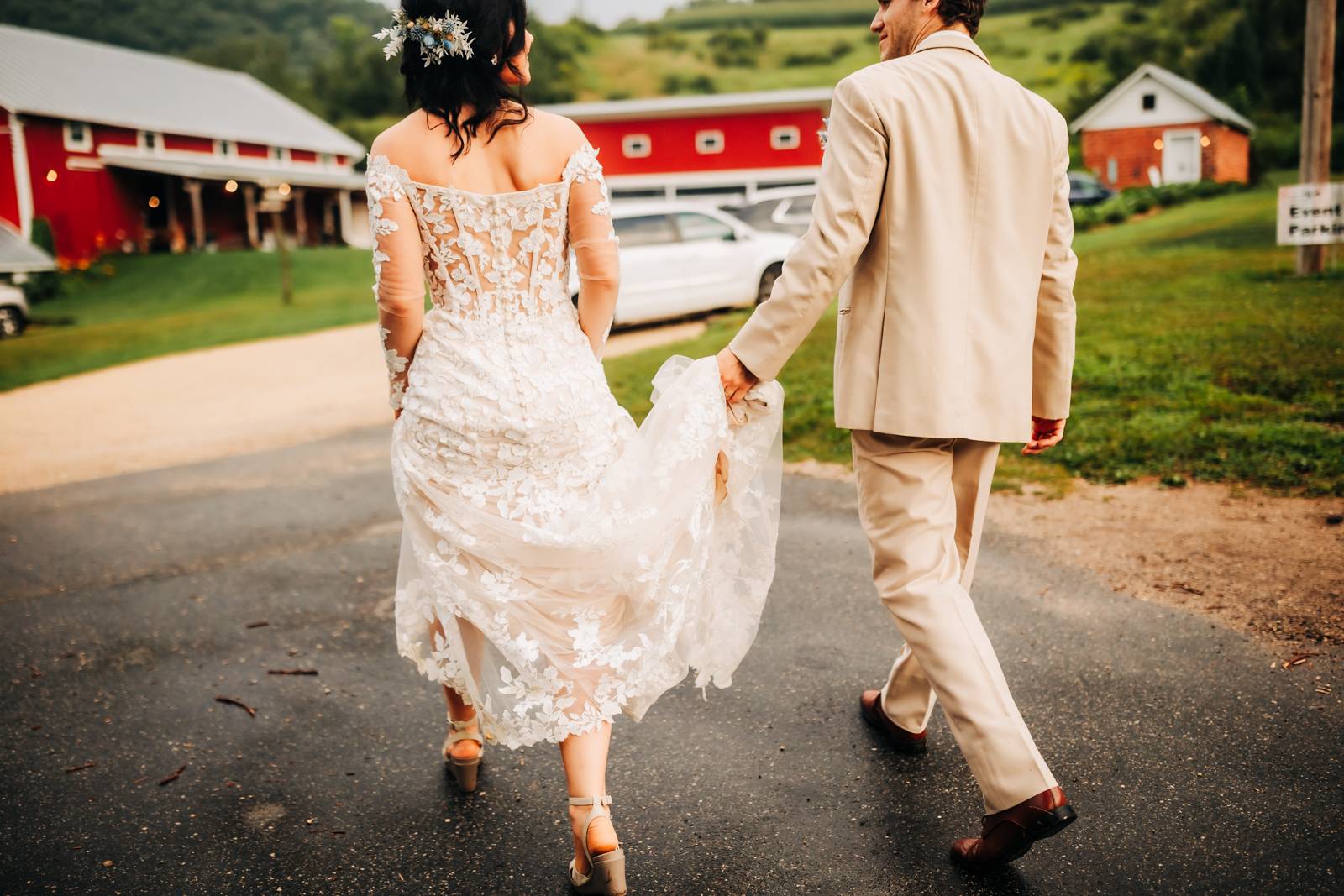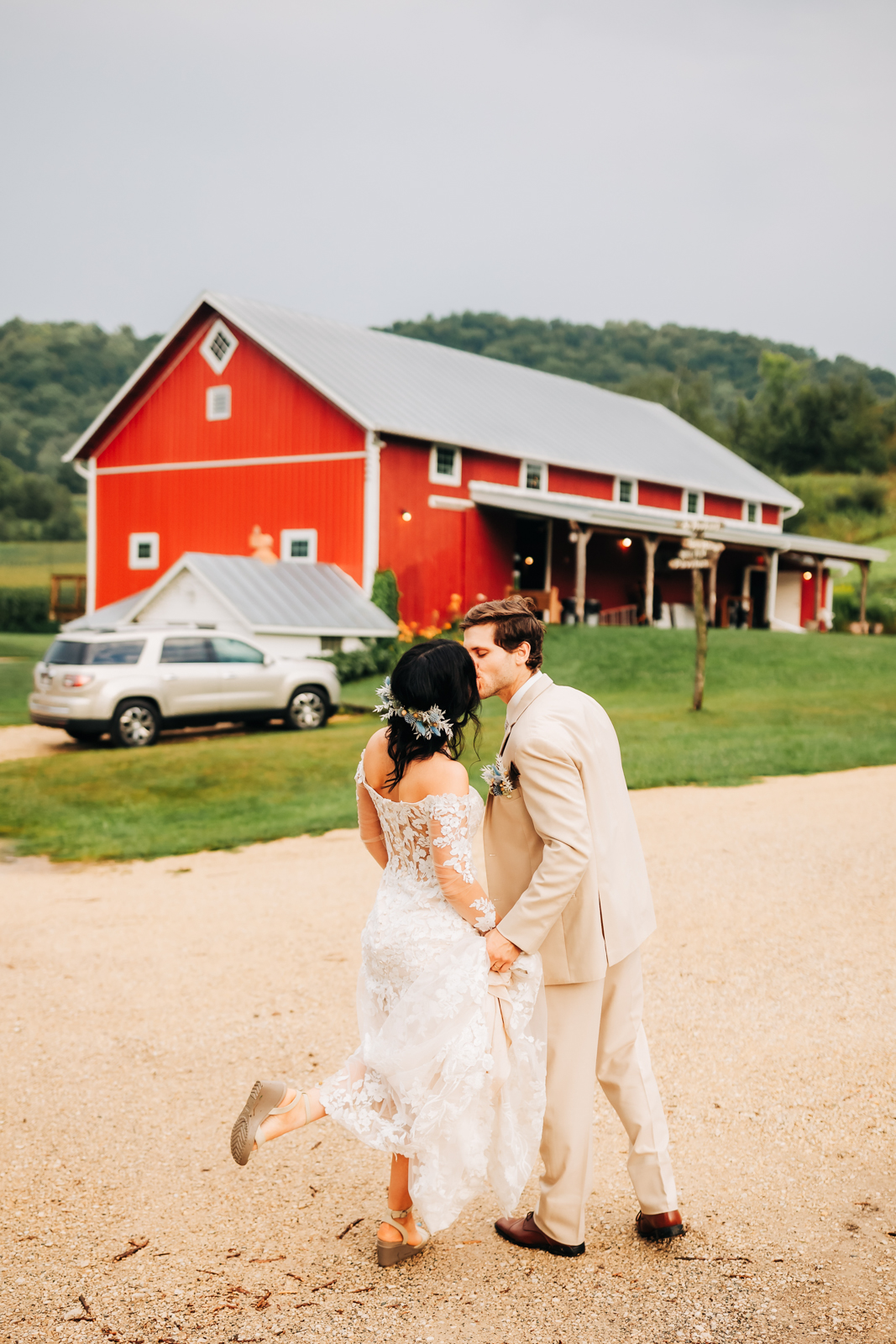 A romantic sweetheart table set for two creates space to soak in your nuptials as a couple, snuggled up under the glow of soft lighting as you watch the evening come to a close.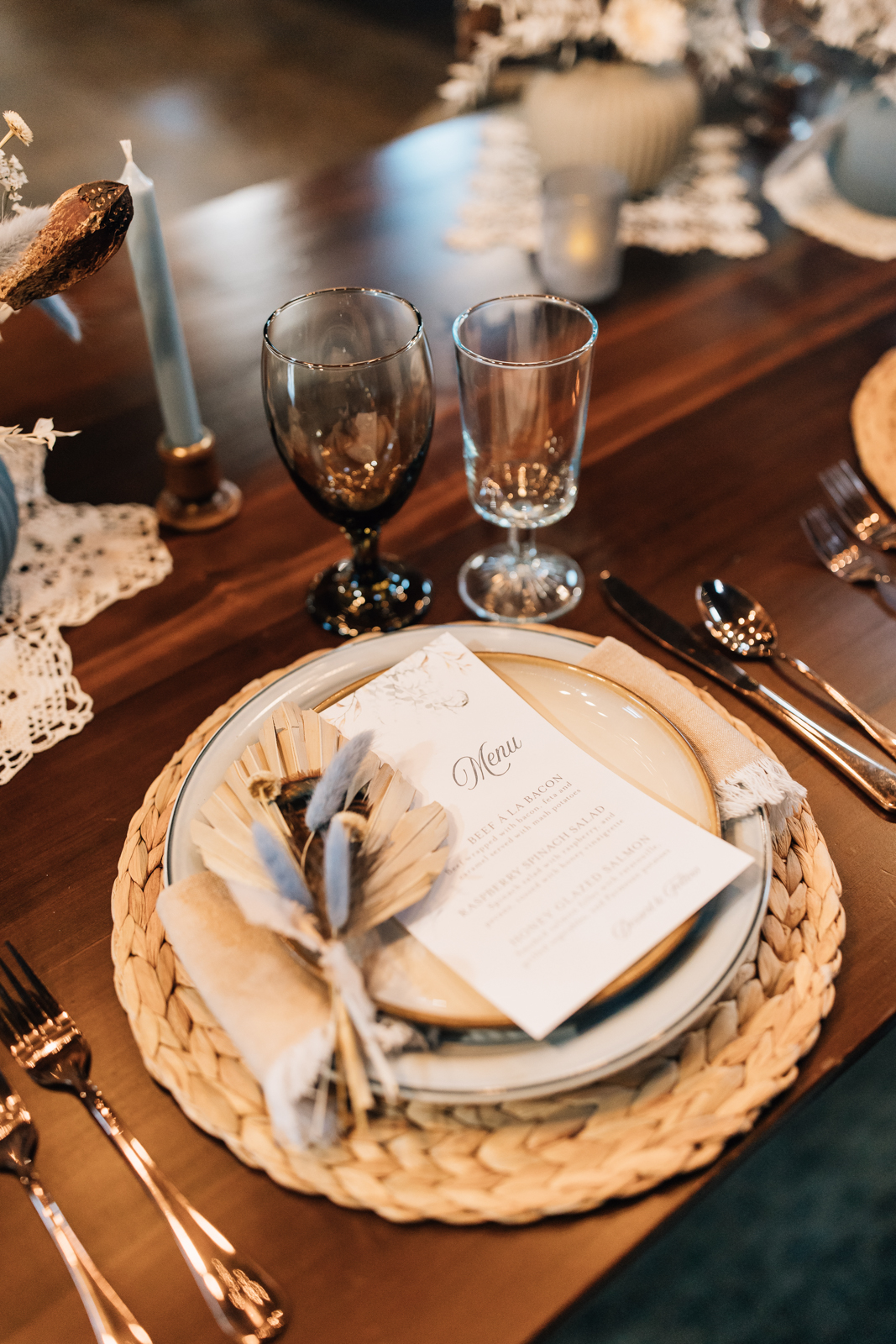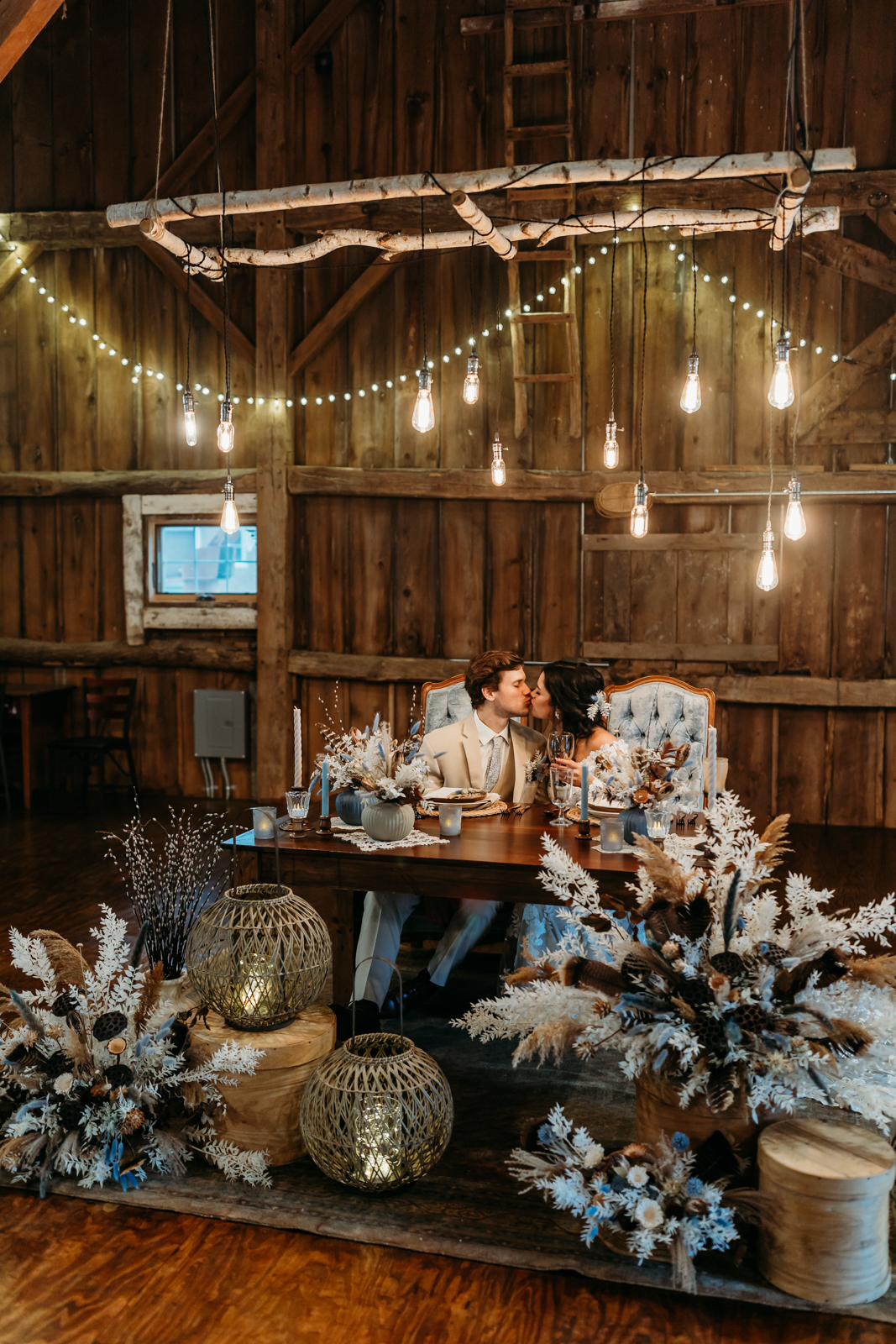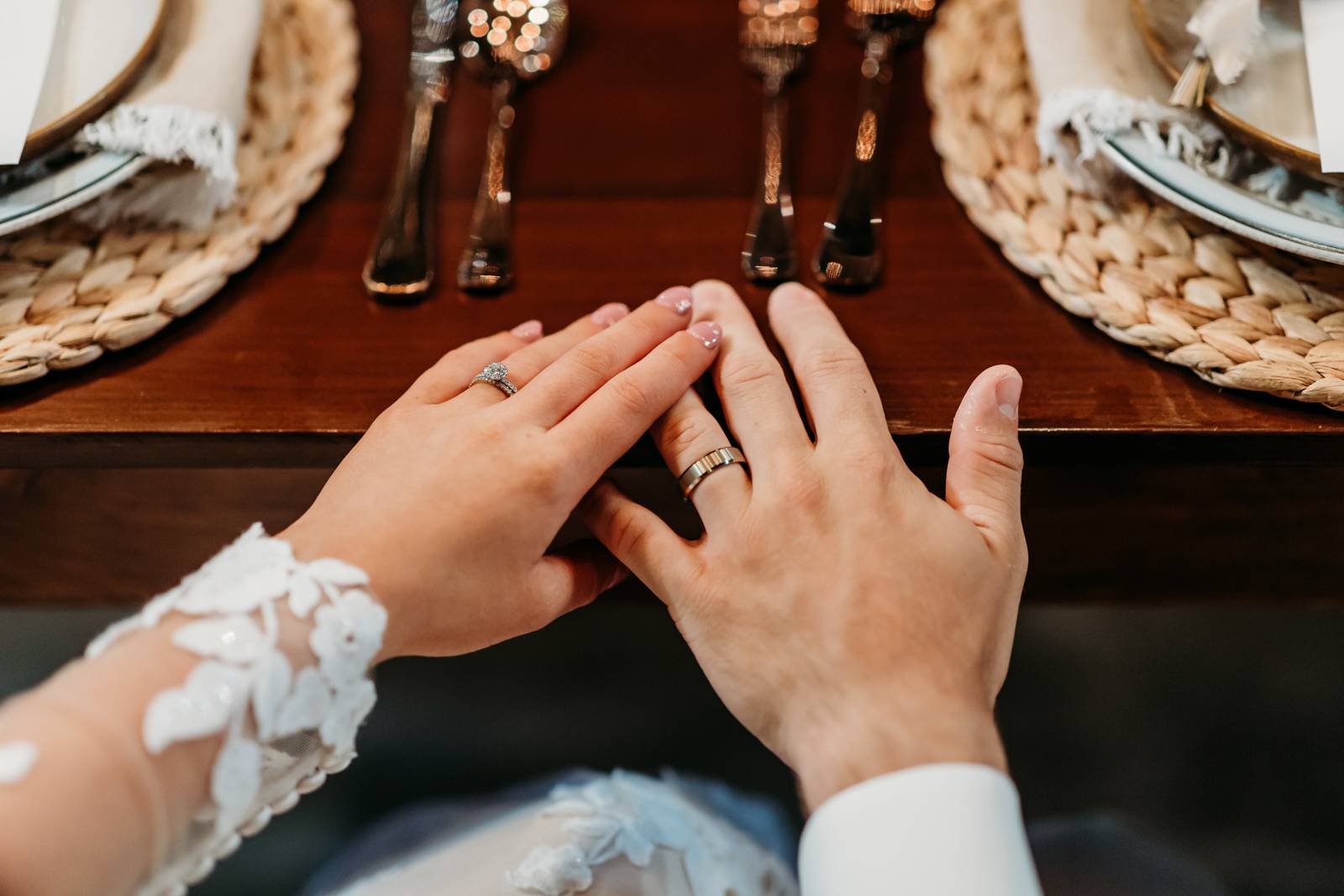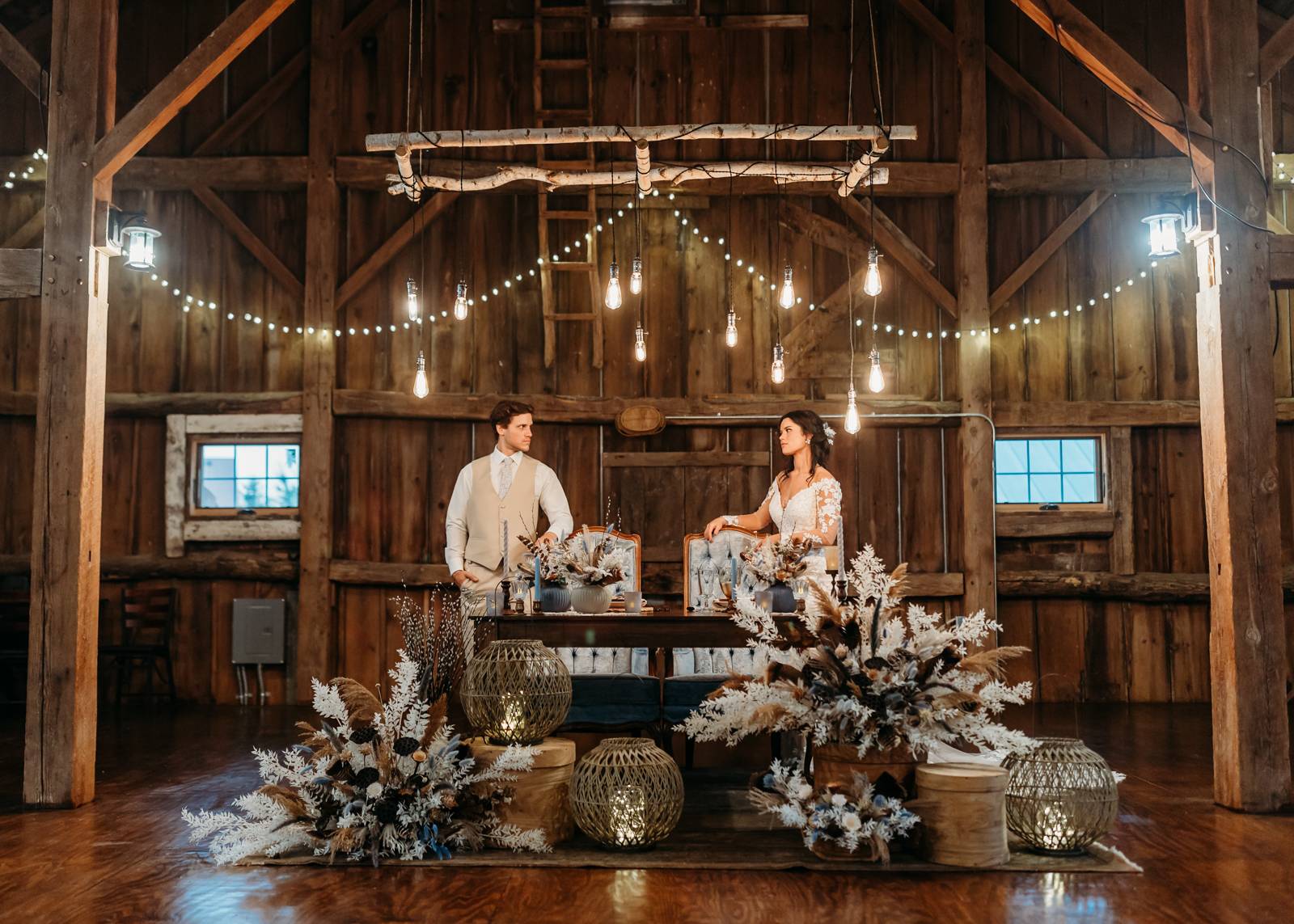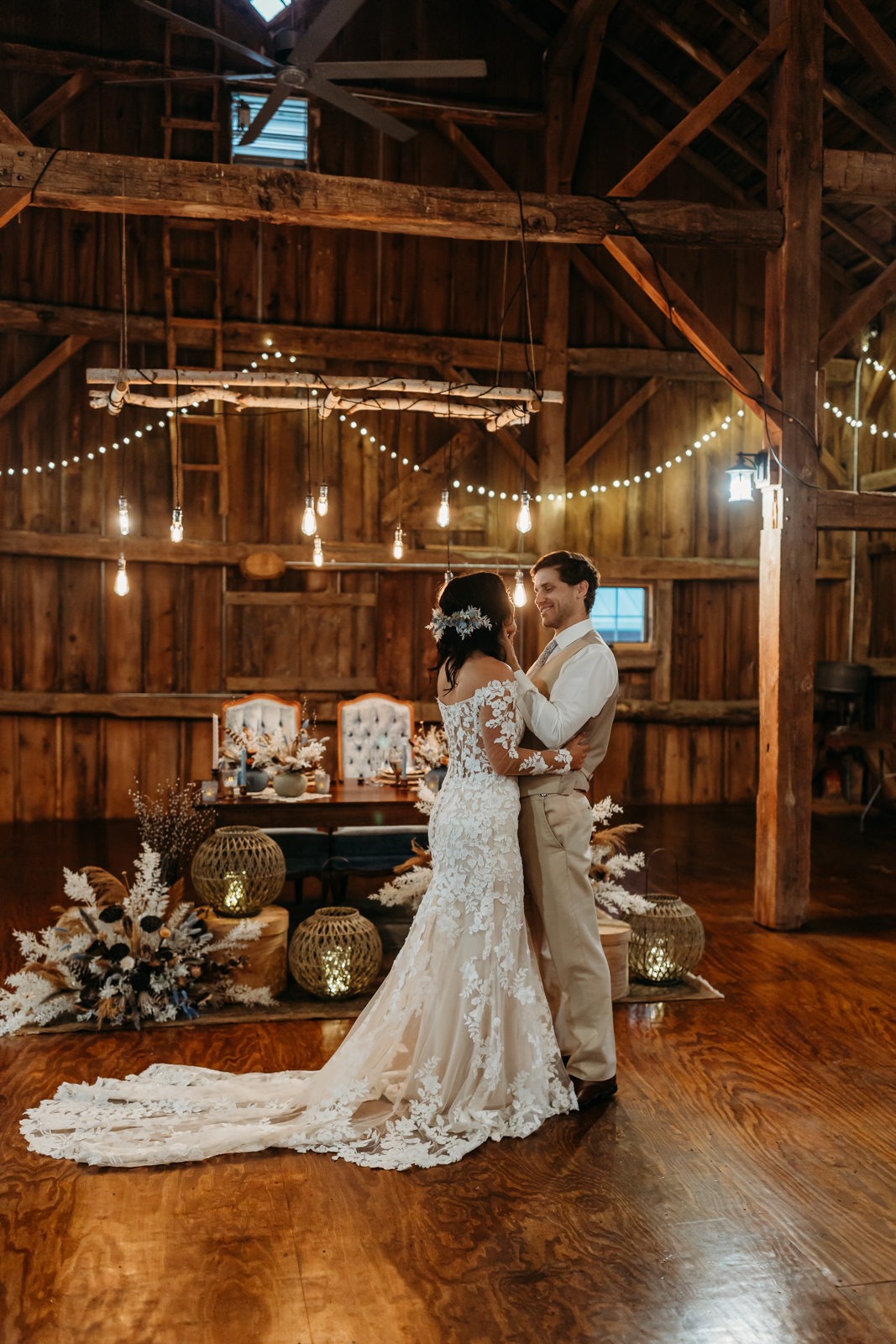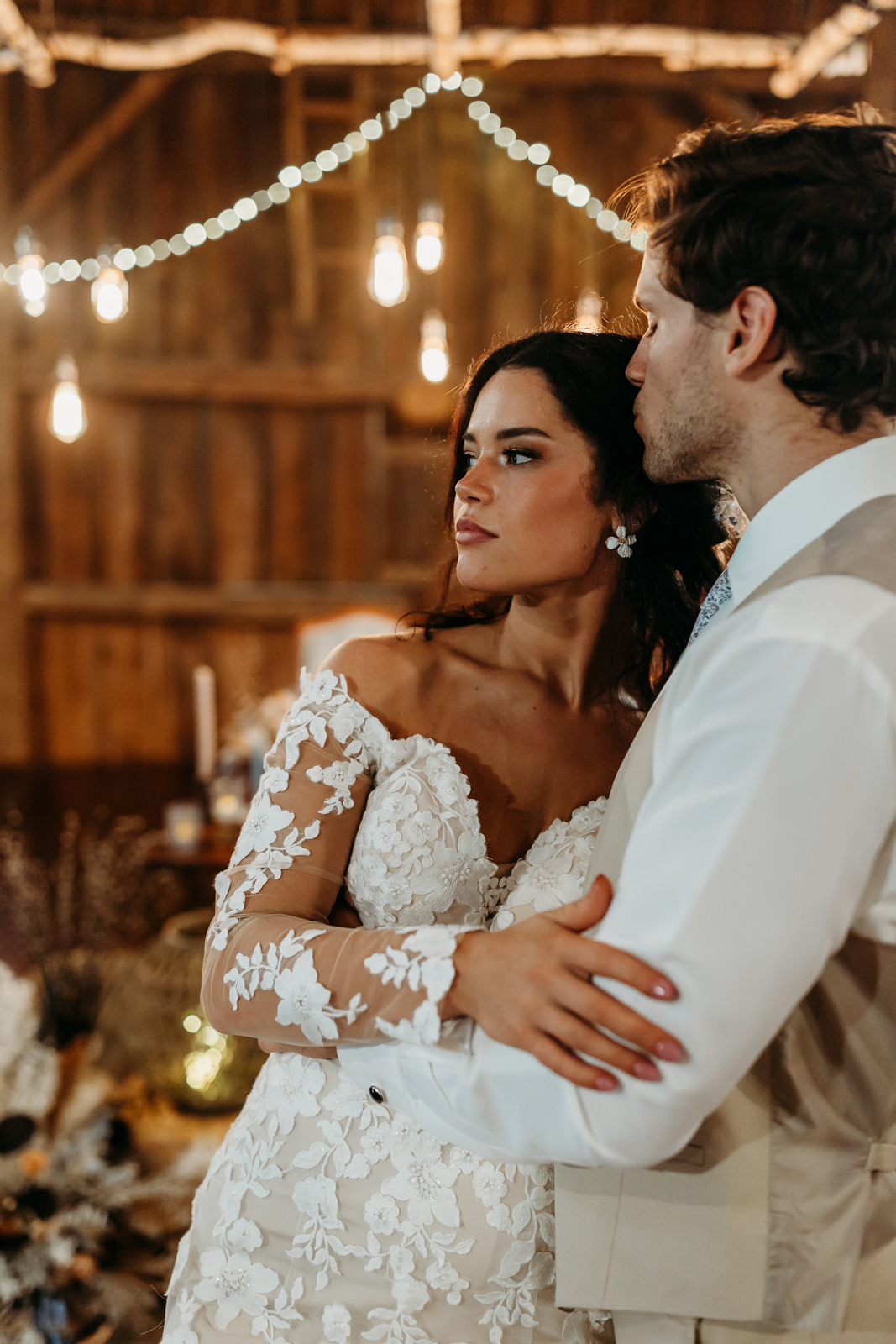 Morrison Media worked their cinematic magic, expertly capturing the beauty and feel of the celebration and design, transforming it into a stunning video that encapsulated each detail and warm, down-to-earth ambiance. See more below!
Connect with each of the talented participating wedding professionals by clicking on their names below. Happy wedding planning from the WedPlan team!